EXPLORE BY MONTH
June | July | August | September | October | November | December
—1936—
—June—
Arrived at School after all day trip from Haifa with convoy.
—July—
Visited Pontifical Biblical Institute with Clarence Fisher and Millar Burrows. Father Koeppel and 2 young American priests Fathers Murphy and Mahan showed us around and later gave us some wine and cakes. Saw the very interesting collection of the Chalcolithic  finds of the first season of the news excavations at Taleilat Ghassul.
July 2
Called on the retiring American Consul General Mr. Morris. Called on Pere Vincent who was not in, but who came over to see me in the afternoon.
July 4
Raised American flag, attended 4th of July services at St. George's, where Millar Burrows have a very nice short talk.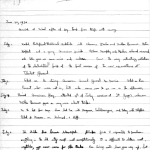 July 5
In the last few days have had tea with Manesses, Schlossingers, and today with Iliffes. Called at Museum, on Richmond, and staff.
The strike has become intensified. Shukri finds it impossible to purchase anything in the old city except most surreptitiously. It is difficult to obtain meat, vegetables, eggs now even for the Arabs. Our living costs have gone way up, but we are still making ends meet.
July 7
Tea for Millar Burrows at Director's House. Present were [unfinished entry]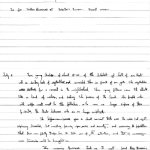 July 8
Four young Arabs, of about 18-20, of the Shalab got hold of an Arab with a donkey load of vegetables, and smashed them in front of our gate. The vegetables were destined for a convent in the neighborhood. Those young fellows roam the streets like a band of wolves, and destroy the produce of the land. The people who will suffer most must be the fellahin, who can no longer dispose of their products, the Arab laborers who are no longer employed.
The high commissioner gave a short, succinct talk over the radio last night, deploring bloodshed, but insisting firmly upon order and security, and assuring the population that there were plenty troops here to take care of the situation, and that if necessary more thousands could be brought in.
This morning Burrow took me to meet Said Bey Husseini and his son Rajai S. Husseini. The father is a particularly prominent member of the Arab community.

July 9
Burrows, Fisher, and I spent the entire morning examining the excavations inside the Citadel, which includes the Tomb of David, which is being conducted by Johns. It is very interesting. At first it seems to be a mass of loose walls, but he is is achieving a semblance of order and understanding. The occupation runs from Turkish to ancient Israelite. There are some definite Israelite walls, and the pottery runs from Israelites to 12th century Arabic, to speak of only the older materials. The Israelite ware seems to be 1000 – 800, and he has a Mamsheth [sic] seal on a jar handle. He also has some Nabatean ware, and he says this is some painted Nabatean. One small fin bowl seems certainly to be Nabatean. There were also some Hellenistic and Roman pieces.
McCown left June 9, 1936
In the afternoon we had tea at the Director's house for the School, plus the following Arabs: Dr. Faris, Rasem Khalidi, Said Bey Husseini. Dr. Canaan came over to say that he and Mrs. Canaan were accepting no invitations.
Called on Joseph Levy at the King David yesterday. Saw him, Esther, and their fascinating baby, and the Miller girl. She seems to have been with them all this time. We also met the new American Consul General Wadsworth.
July 10
Called on Edwin (Nebi) Samuel this morning at the Immigration Offices. He reinstated me as "permanent resident," established Helen as such, and cabled, at my expense, her visa to Detroit, and have me a reentry permit for Palestine. I am leaving for Syria tomorrow with Burrows and Bergman, and taking Sam and Mary Wolk up with us.
July 11
Drove to Beirut. The details of the trip to be obtained from copy of my letter to Albright of [blank space]. Compare my letter to Albright of July 11, 1936.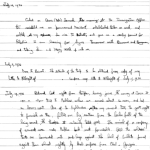 July 19
Returned last night from Haifa, having joined the convoy at Jenim. It was a slow trip to Nablus, where we arrived about 12 noon, and had an hour's wait. One of the Highlanders after my remark that the gov't ought to furnish us tea, filled our big canteen from the boiler full of tea being served the troops. It certainly tasted good. The arrival of a company of armored cars made Nablus look most formidable. All the soldier's tents are barricaded with sand bags against the hail of bullets fired against them almost nightly by Arab snipers from Elal and Gerizim.
Fisher, Burrows, and I stayed the night before at the Carmelite monastery. The view over the city and the Mediterranean, and the quietness of the monastery always attract me back to the place.
July 19 (cont.)
The strike seems to be approaching an end. Many more people were visible on the roads yesterday then than on the preceding Saturday, and Shukri tells me that it is again easier to purchase vegetables from Arab fellahin, whose products were being spoiled by the Shabab as the vegetables were brought into town. It seems that the stone-keepers also are becoming more and more insistent that the strike come to an end. The economic effect upon the Arabs has been most severed and comparatively speaking has hurt the Jews but little. The Arabs want now to substitute a boycott of Jewish goods instead of the strike. The British government seems to remain firm that no concessions will be granted, nor the Royal Commission come to Palestine, until all violence has ceased.
Had tea at Barbour's house this afternoon. Miss Nixon and the younger of the two Barsonki's was there. Barbour is now the editor of the JPOS [Journal of the Palestine Oriental Society], and seems to be quite a nice chap. He evidently has a private income of his own, and devotes himself completely to Semitic studies.
July 20
Received a list of books from the Oriental Institute that we had asked for.
July 24
Was just prepared to go down to Loyd-Toustina offices to pay for tickets to meet Helen at Naples on Aug. 16, when I received a cable from her saying that the physicians had ordered her to stay home until her baby was born. I guess it is for the best, but I miss her dreadfully. It will probably be next spring before she comes over here, although some say that she could make the trip in winter-time. I've most of gotten attached to the idea of a child, and with my parental instinct aroused, am prepared to love it. As a Jew I sometimes wonder whether I am doing well to bring another little Jewish baby into the world, but as a human being I guess I want one child or more than one very much.
I have been consulting maps and preparing generally to get away to TJ or Sinai as soon as possible.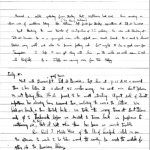 July 27
Received a cable yesterday from Starkey that Wellcome has died. Am sending a return wire of condolence today. Hope Wellcome (Sir Henry Wellcome) left funds for Starkey's excavations at Tell ed-Duweir. Met Harding, the new Director of Antiquities of T.J. [Transjordan] yesterday. He was with Starkey at Tell ed-Duweir. He is a youngish man, who affects an Arab beard. He is said to know Arabic very well, and also to know pottery well. He ought to be a good man for Transjordan. I hope I can get along with him on the whole as well as I did with Horsfield. He and Iliffe are coming over for tea today.
July 30
Went with Burrows and Yusef Muse to Tell el-Duweir. Left here at 7:15 a.m. and arrived there two hours later. It is about 42 miles away. We went via Beit Jebrim. We met Harding there. The site proved to be most interesting. A great deal of utmost importance has already been discovered there, including the ewer and the letters. We had our lunch, and then started back. We took the wrong turn at Beit Jebrim and got to Zakariah before we decided to turn back in preference to continuing via Ain Shosus Bab el Wad where there has been so much trouble.
Rev. Cecil J. Mullo Weir of the U. of Liverpool called on me this afternoon. He wants to be taken around the country. He made the mistake of getting into the American Colony.
David and Johnny Magnes are coming here tonight to stay. David is getting married to Norah Moses tomorrow. Wish my Helen were here.
Rain fell for about 15 minutes today in Jerusalem. We were in Tell ed-Duweir.
July 30
Noble arrived.
—August—
Had dinner last night with the American Consul General, Mr. Wadsworth and his wife last night at the King David. Iliffe and his wife, and Noble of the ASOR were there. It was a very good dinner, and we had a pleasant evening. Major Tullock of the Potash works dropped in later on in the evening. Lady Petri is coming tomorrow morning for which I shall be thankful. Sir Flinders Petrie is getting very feeble. He is 86 now, and is constantly falling and hurting himself. His letters in the "Palestine Past" recently are very anti-Arab. He is an independent old cuss, and I have a great deal of admiration for him.
August 6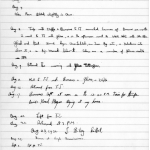 Alan Rowe[?] stabbed slightly in Acre.
Trip with Iliffe and Burrows to TJ cancelled because of Burrow's sore mouth. I went to TJ with Ylias, and in the afternoon went to Wadi Wali with Ali Abu-Ghosh and Head. Found Riym Umm Lehleb, an Iron Age site, a Nabatean site above it, a Hajn Mansub below it. There are a number of places viable near it.
August 9
Returned this morning with Ylias Tartunjian.
Went to T.J. with Burrows and Ylias, and Iliffe
August 16
Returned from T.J.
August 17
Burrows left at noon on the 12:40 P.M. train for Haifa. David and Norah Magnes staying at my house.
August 20
Left for T.J.
August 26
Returned at 3 P.M. Aug 23, 1936. L. Billig[?] killed.
August 29
Dinner at High Commissioner's.
—September—
Left for T.J.
September 12
Returned.
September 16
Went to Museum to see John's pottery from Athlit, which seems to date from 11th to 7th century B.C. There are def. signs of cremation.
September 16 (cont.)
Called on Beauman at Dept. of Education with regard to regulation of School's status concerning taxes. He was most cordial and helpful. He is helping me get the School on this list of approved educational institutions.
Tonight I am going to Magneses for Erev Rosh Hashanah.
The Bergmans have left again today for a couple days vacation.
—October—
Returned from T.J.
October 3
Wire that Helen had a miscarriage
October 4
Grahams arrived
October 5
Classes begin. Have obtained tax exemption for 1936-1937. Larry has paid bill, in pounds cash and rest in pre-dated checks. Have a request to place school on tax-free list.
October 10
First of a series of teas for the Grahams.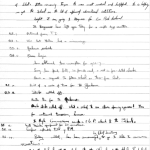 October 11
Strike called off. Another tea for the Grahams. Arab strike called off. What a relief to see stores opening again! Fear for continued terrorism, however. The High Commissioner sends a 5 L.P. check to the School.
October 12
Lent Maisler equipment for his excavations.
October 13
Curfew extended till 9 P.M.
October 14
Baley called, has been encouraged by Chief Secretary to go to Abda to commence excavations. Sent the school with Nuseibuh to the Church of the Holy Sepulchre, St. Anne's, Yia Dolorsa, and thru Sugs.
October 19
Ken arrived, making this year's enrollment complete for the present.
October 21
Leaving for Syria with school.
October 28
Returned with school, having some from Talghah on the last day. The outstanding feature of the trip for me was the Dura-Europos synagogue in the museum in Damascus. Mr. Walker and Mrs. Ellis at school perparatory to leaving for Schute Zuureid. Rel. Assoc. of Univer. Women met in Director's house Oct. 1936. Have received permit to excavate Tel el Khaleifeh. Curfew has been lifted till 12 P.M. There has been a good deal of repair work going on in our buildings, furniture, windows, tanks have regained attention. There were a few drops of rain last night. On the way from Aleppo to Baalbek on Oct. 25 we saw into a rain storm. Country much quieter.
October 29
Curfew lifted completely.
There are 18 people here now with the School, including the 4 of the [?].
October 30
Tea at Nebi Samuel's.
October 31
Lunch at Normeysky's.
—November—
Sunday. Went to Jefrola to attend wedding of Hajib's brother.
November 2
School went with Nusabeh to mosque of Omar.
November 5
Thursday. Left Kalumdia at 6:30 A.M. with a Flight Seargent at the controls; landed Amman 7. Had breakfast with Squadron Leader Traill. Left 8:30 A.M. with him, flew down the Analah to Agabah, when we had a drink and a swim at the Air Force camp, then flew to Mean for lunch. Left 2:45 P.M. flew down the hosa repeat the Heidom-Wala. Ihemed landed Amman 4:45 P.M. Had tea with Peak Pasha, driver with Pherri and Traill, slept at the Avi – Camp.
November 6
Left Amman with Flight Lieutenant Grace at the controls. Flow north to the serik-hole, back to Amman, unused around northern tip of Dead Sea, landed Kalundia at 7:30.
November 8
Left with Graham, Glueck, Hicks, Wood, Michols, Ken, Beri, Bergman, Wood, Lundy, and Ylias for Agolah. Spent the night at Amman.
November 9
Went to Ain Neigel, via Kerak, Tafuleh, Shobeh.
November 10
Went to F. Agalah via Wadi Musa Maara, Kuereviah, Khaladeh, and Kattara. Examined Tell al- Khaleifi.
November 11
Soundings at Tell al-Khaleifi. Went to Rajm Hadid.
November 12
Left Agalah at 5:30, went via Maan Surf-ed-Deramiah, Gatrani, Amman, arrived Jeruselem at 8:00 P.M. About half-way up to Jeruselem the gasket blew out.
November 13
Beirslen has been here again to see about the hot-water tank in the dormitory. It seems that everything is coming to pieces this year. The water tank in the garret with probably have to be renewed next year. I have doors, windows, furniture, etc. gone over. A good deal of the plumbing seems regularly to get out of whack. The roof of the director's house was leaking had to be repaired.
November 15
Arrive to Amman. Had Truill down to Hotel Philadelphia for dinner.
November 16
Flew with Truill to Kerak. Drove to Kh. Tanner, had lunch at police-post. Drove to Jafileh. Had dinner and slept at Abdullah Rihari's house. Flinders-Petrie lectured for me.
November 17
Drove and rode to Sela and Poanses. Drove to Kerak, slept at Father Durra's. Petrie's left for Sheikh Zuweid.
November 18
Return to Jerusalem.
November 19
Bergman left for Iraq.
November 21
Dr. Murray and Mr. Ellis came in in the afternoon. Began to rain at night.
November 22
Been raining all day. Grahams presented garden chairs and bench to school.
November 25
It has been raining since Nov. 21. Read paper at JPOS meeting at Dominicans [?]. G. Lord given permission to excavate at Megiddo till Dec. 1937.
November 26
Went to Syrian and Greek convent for Prof. Hatch to get information for him. Thanksgiving dinner for 21 people, all enrolled with or attending the school. Went to American Church in morning.
November 28
Stanley called. He is beginning work at Dunweis tomorrow. He is quite happy over the dagger at the P.A.M. with Sinaitic inscriptions on it. French given permission to do Ai. Richmond-Brown arrived to work at el-Meshneque Abdullah Rihami Bey found EII-II lamp-goddess at Buseniah.
November 29
Took school to museum, were shown around by Dr. Ben-Dor.
—December—
Took school to to Jericho a Dead Sea via Wadi Kalt.
December 6
Bought 10 waraguem [?] trees for the school grounds.
December 8
Sent material to Allbright for AJA review article.
December 9
Left for Haifa via S.R.leh Abeig taking Graham, Fisher, and Magnes with me.
December 9
Left Jerusalem with Magnes, Fisher, Graham, and his son Roger. Drove to Sheikh Abreik with Nahafal, where Maisler met us, and showed us the Jewish catacombs he has been excavating. Drove to Haifa. Fisher left for el-Hammah. I stopped over at Hotel Haden Hacammel. Took a long walk on Mount Carmel Hermon. Very clearly visible.
December 10
Left at 2:00 P.M. on Marco-Polo, a beautiful boat. Pleasantly surprised with tourist (third class) accomodations. A jusidicious tip: together with the letter from Lloyd Triestino office in Jerusalem secured me a 4 – berth cabin to myself. Boat practically empty, and I had run of entire boat.
December 11
Arrived Alexandria in the morning. Remained on board, because of visum difficulties, but didn't mind.
December 12
Left Alexandria about 2 P.M.
December 14
Arrived Brindisi at 12:30 P.M. Left Brindisi by train at 2:05 P.M. For Naples via Foggia. Traveled second class; quite comfortable. Arrived Naples 12:15 A.M., went to Hotel Continental on Via Pinterope. Payed 25 Lira for room and bath.
December 15
Walked around all day. Watched fishermen mending nets. Some of the heads seem to have almost Slavic features. Had coffee at Clafisch's [?] near the hotel. The new post-office in modernistic style is stunning. Bought ticket to Palermo. First class cost 160 lira. Left Naples at 10:30 P.M. on fairly long boat. Comfortable, small cabin.
December 16
Arrived Palermo at 9 A.M. Staying at Hotel des Grandes Palmes. Met Helen at 3 P.M.
December 17
Motored with Helen to Taormina, via Rondozzio, getting a wonderful view of Mt. Etna. We are staying at the San Domenico Palace, a converted monastery.
December 17
POS meets here.
December 26
Left Taormina by train for Naples via Messina. Left 5:56 P.M. –arrived 7:30 A.M.
December 27
Left Naples for Haifa on the Lloyd Triestino "Esperia."