EXPLORE BY MONTH
January | February | March | April | May | June | July | August | September
—1939—
—January—
January 1
Heurtley called to say good-bye. Mr. and Mrs. Walsh, her son, Mr. Atkins, and Mr. and Mrs. Shaw came in today to see the Nabataean antiquities, and stayed for tea.
January 3
P.O.S. meeting at Museum. Heurtley's maiden speech and swan song.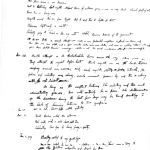 January 4
A terrific bomb went off last night at 12:00 P.M. shook our buildings; prob. directed at Nashashibi's house. One Nashashibi student has never returned after walking off with West's notes. It went off in the garden of Larson's house and was intended for Keith-Roach. Strikes on again in Old City, because police made searches near Haram area.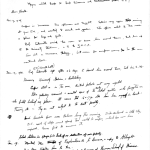 January 8
Magnes called troops to keep Husseinis and Nashashibis from flying at each other's throats.
January 9
Curfew in Musrara this afternoon and tonight. Soldiers rang again this evening at 9:00 p.m., and wanted to search our garden. The officer asked if this was a place for boys and girls. Professor Latourette arrived this morning. I drove him around town, took him up to the university stadium, and to the Y.M.C.A.
Jews shot in Musrara today, but reason for curfew seems to be the one mentioned above.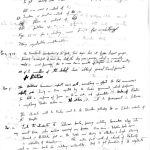 January 14
Professor K.S. (Kenneth Scott) Latourette left after 2 ½ days. I showed him around town, took him to the Museum University Stadium and Bethlehem. Curfew still in this area. British patrols out every night. Police yesterday examined and arrested one of the Arab School youths who fo-[?] through the field behind my place. It seems that 16 and 17 year olds have been engaged in bomb-throwing, etc.- they are not subject to the death penalty. Some bandits from near Hebron hung this morning. Strike declared in Old City, O.C. said if shops weren't opened there would be curfew, which has now been imposed. Cannon fired to announce it. School children played in field back of us destructive of our property.
January 19
Mailed Mss. Of Explorations III to Burrows, and copy to Albright Dr. and Mrs. Kaplan here to tea. Yesterday, attended meeting of Board of Governers of Newman School of Missions
News-Letter No. 1.
Dr. Clarence S. Fisher, of the second volume of his monumental Corpus of Palestinian Pottery, and the dispatch of that manuscript to America. The second volume deals with the Iron Ages.
Professor Fisher has already finished a considerable number of plates for the third volume. The book on Explorations, III, is to appear as vol. XVIII of the Annual of the American Schools of Oriental Research. Professor Fisher's volumes are to be published by the Oriental Institute of the University of Chicago.
Professor Kenneth Scott Latourette, Professor of Missions and Oriental History at the Yale Divinity School, stayed at the School for two days on his way home from Madras. It was a pleasure to welcome him to the School.
Two new maps have been issued by the Palestine Government Survey of Palestine, Jaffa, which the constituency of the Schools may be interested in. One is called Palestine of the Old Testament, and the other is called Palestine of the Crusades.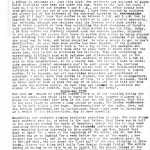 January 22
News-Letter No. 1. [printed document]
Curfew again, or rather still. In fact, we are never certain any longer whether or not our quarter of the city is under curfew. Something happens in the vicinity, and the military impose curfew, and fire off a cannon to announce it. Just like that! The residents are supposed to guess which districts have been put under the ban. Twice in the last few days, I have had to drive out between 6 and 8 P.M., and twice, after little more than getting the car out of our driveway, I have been stopped by soldiers who appear out of the darkness of the compound opposite us, and ask if I don't know that curfew is on between 6 P.M. and 5 A.M. One is tempted to ask if curfew has become a habit, or is just a painful necessity, but refrains, because one realizes that Tommies would much prefer to be in their quarters or home than patrolling the dark stretches of Herod's Gate quarter. Yesterday there was a 24 hour curfew in the Old City. Today, a 24 hour curfew was suddenly imposed upon the Musrara quarter, adjacent to our quarter. One learns that there is curfew thus either by being stopped upon emerging from one's door or by suddenly being prevented from taking the usual way to town, and being compelled to make a detour to get to one's destination. We also know when curfew has been imposed, if the gardener who lives in Musrara doesn't turn up for a day or two. Our servants who live in the Old City haven't been able to sleep home at night time for two weeks now. This is not to criticize the military. They are performing an exceedingly difficult task with patience and circumspection, and on the whole, I think that the conduct of the soldiers is exemplary. If a man is shot in this neighborhood, or in a nearby one, the military have to institute searches. Special messengers can't be sent around to the American School or elsewhere, except to central points such as the police-stations, informing the public that it has been deemed necessary suddenly to impose curfew. It is imposed, and all suspicious characters are questioned or arrested. I could, each time curfew is imposed, get myself to headquarters and get a curfew pass. It takes hours of time, is a general nuisance, there is never lack of work at home for any of us here, and so we bide our time and take the curfews calmly. We have long ago learned to appreciate the wisdom of the Arab proverb, that "haste is from the devil."
For some reason or other there has been a sudden flare up of the troubles during the last few weeks. One would like to venture the hope, however illusory all hopes for improvement have been in the last two and half years, that this is the last flare up before a long period of peace. The London conference is to be held within a few days. Representatives of the Arabs, Jews, and the British Government are to participate. Peace might come to Palestine as a result of its deliberations. May it come speedily!
Meanwhile, our academic program continues according to plan. The main change this academic year is, as notes in the last letter, that there was no halt in the lectures during the month of December, except for the holiday week including Christmas and New Year. The students preferred to take the mid-year vacation during intervals in this month. Mr. and Mrs. Donald West went to Egypt for a week at the beginning of the month, and Dr. and Mrs. Glidden may go to Baghdad for a week before the end of the month. A new student has arrived, and is to remain the rest of the academic year. He is Rev. W.B. Ward, who has spent the first half of the year studying at Edinburgh. Classes are being held daily from Monday through Friday. The entire School is hoping to be able to go to Aqabah for the second season of the School's excavations at Tell el-Khaleifeh, which we have identified with Ezion-Geber and the later Elath. The chief events of the week were the completion by the director of the manuscript of Explorations in Eastern Palestine, III, and the dispatch of the manuscript to Professor Burrows, and the completion a few days later by the Professor of Archaeology of the Schools.
January 24
Jewish taxi-driver, sitting in his car, immediately in front of Magnes' house, shot dead by two Arab assailants.
January 25
Military and police are searching our neighborhood. No curfew, however, has been declared.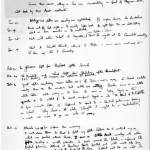 January 27
Bombs went off last night in the vicinity. Shots heard. The night before, there were shots lasting about an hour somewhere in the neighborhood.
January 28
Went with entire School to Megiddo, via Nablus and Jenin. Spent the night at the Consulate monastery.
January 29
Went to Sheikh Abreik, returned to Haifa, and came down crest road to Tel Aviv and then to Jerusalem.
—February—
February 1
The Gliddens left for Baghdad after lunch.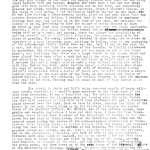 News-Letter No. 2 [typed document]
We all went on another trip last Saturday and Sunday, Jan. 28-29, with Megiddo and Sheikh Abreik as our goals. This time we joined up with the convoy that leaves Jerusalem every morning at 8:15 A.M., and goes to Nablus, whence another convoy goes to Haifa via Jenin and Megiddo. There were several other private cars along, spaced between the leading armoured car in front and the one that brings up the rear. The convoy travels very fast for the hilly roads between here and Nablus. Despite the fact that I had had our Dodge gone over very carefully before starting out on the trip, and completely greased and oiled, trouble developed en-route, which I couldn't locate. At the speed we were going, I had difficulty holding the car on the road. It was like driving a temperamental horse. After we had gone about half way between Jerusalem and Nablus, I decided that it was foolish to continue driving that way, and pulled up on the side of the road, and motioned the convoy to go on, preferring to take the chance of being stopped or shot en route by some band than plunging the entire car over the steep road side. Besides, I felt that there was little danger for us being held up by a band. And anyway, there was always the possibility of talking oneself out of a difficult situation. One cannot argue with the force of gravity. The convoy, however, decided to slow down, and we drove on together at a more leisurely pace. Arriving in Nablus, some of the mechanics of the army-garage kindly looked over our car, took it out on the road for a test, but could not find the source of the trouble. We finally discovered it ourselves. The Jerusalem garage had put our spare on one of the front wheels, not realizing that there was a large "shoe" in the spare, which had been placed there once after a rock had split the tire. We changed tires, and everything was all right again. We had about an hour's wait in Nablus. I noticed that not a single soldier mad a step without taking his rifle with him. Nablus has been, under various names, a storm-center ever since the days of Dinah. The great Bronze Age wall of Shechem, exposed during Sellin's excavations there a number of years ago, is still visible a couple hundred metres on the east side of the road, as one enters the limits of modern Nablus. I have not ventured, for obvious reasons, to take the students this year to the site, feeling that it would be best if they looked at it from the road.
The convoy to Jenin and Haifa being composed mostly of heavy military trucks traveled at a snail's pace compared to the first part of the trip from Jerusalem. It was a beautiful day. The entire country-side was scarlet with anemones or blue with wild iris gladdened the eye. A deceptive peace hovered over the land. Soon we were in Jenin, passing the ruins of the houses on the main street, blown up by the military following the murder there of the District Officer, Mr. Moffat, on of the softest spoken, most gentle and capable Englishmen I have met over here. I knew him from Transjordan, where he had been Director of the Department of Survey. He had prepared the new maps of Transjordan, which the School has been using now for several years during the course of its archaeological exploration of Transjordan. After leaving Jenin, we parted company with the convoy, and traveled along the rest of the road to Megiddo at our leisure. The students photographed little Mt. Hermon, and Mt. Tabor, clearly visible in the distance, and on one photograph, I believe, got both of them in the same picture. Pictures were also taken of Taanach, but to my regret I did not feel that it was wise to leave the car and climb to the top of the mound. Arriving near Megiddo, we stopped on the road, and had picnic lunch, photographed the great mound, and then drove up to the house of the Oriental Institute of the University of Chicago, which has for years now been conducting remarkably productive excavations at Megiddo. The present Director of the excavations is Mr. Gordon Loud, and this is, I believe, now his third season there. We were warmly received by him, and Mrs.Loud, and the rest of the staff, and were promptly served with delicious Turkish coffee. I am glad to report that all is well with them. The excavations are proceeding apace. Mr. Loud spent several hours with us showing us around, and explaining in detail the course of the excavations, where during the two previous years some phenomenal finds have been made. I also had a particularly satisfactory conversation with Geoffery Shipton regarding Bronze Age ledge-handles found in Palestine, and their relationship to those found by our School during the course of the archaeological survey of Transjordan. He and Robert M. Engberg had previously published the Notes on the Chalcolithic and Early Bronze Age of Palestine, which has become of basic importance for the study of Palestinian pottery, and in which a large section is devoted to ledge-handles. We left Megiddo at about 4 P.M., and then went on to Haifa, spending the night at the Carmelite monastery-hostel there. Haifa is in many ways the most modern and beautiful city in Palestine. The view from the monastery, situated on the very western edge of the top of Mt.Carmel, is one of the finest that can be obtained any where in this part of the world. Almost directly below is the blue Mediterranean, and at the end of a sweeping curve in the shore-line, Acre can be dimly seen in the distance. The harbor illuminations at night time, the lights of ships riding at anchor, and of the city itself, make a pageant that is pleasant to behold and hard to forget.
After an early start the next morning, we arrived at Sheikh Abreiq, which is about ten miles from Haifa on the road to Nazareth. Dr. Benjamin Maisler and his staff accorded us a hearty welcome. The excavations of the early Jewish catacombs being extended this season, but the piece de resistance is an early synagogue, which Mr.Maisler thinks belongs to the second-third century B.C. It is situated directly in the center of a settlement of young Jewish colonists, of the colony's houses are resting on the walls of the early synagogue, and have been partly undermined as a result of the excavations. Some of the young colonists are doing the diffing, and have the ruins of a synagogue, in which some of their ancestors may have worshipped many centuries ago. The discretion necessary before the excavator himself has published his results permits me to say only that sculptures of human and animal figures have been found this season also at Sheikh Abreiq, aside from numerous important inscriptions and coins. Dr. Maisler, after spending most of the morning showing us around, had tea served to us, and had one of his men dig up a large bunch of anemones for me, together with their roots and soil around them. They have now been transplanted in the School garden, and not one has died, and two new buds are opening up! We then drove back to Haifa, taking Dr. Maisler along that far so that he could do some errands there. We had lunch in a clean little restaurant along Kingsway, and shortly after 12 o'clock, were on our way home via the coast road, which is quite good, and almost completely safe. At 4 P.M., we were back at the School, just in time for tea.
A number of trips which the students did not take during the month of December are being carried out now. Dr. and Mrs. Harold Glidden left for Baghdad today, and Mr. W. B. Ward, and Mr. and Mrs. E. C. Knight are leaving for Galilee tomorrow. I had to secure a special permit for the taxi and driver of the Jerusalem Express Co., which is taking the party to Galilee, because cars of touring companies are not now generally allowed to make inter-urban trips.
Among recent visitors to the School was Professor Milton C. Davis of the Centro Evangelico Unido (Union Theological Seminary of Mexico), Mexico City.

February 2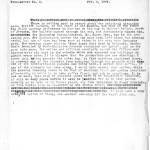 News-Letter No. 2.
There is nothing good to report about the political situation here. Dimitri Baramki, on the staff of the Museum, was shot at the other day while passing Gethesemene in his car on his way to Khirbet Mefjer, north of Jericho. The bullets passed through his car, but fortunately missed him. The Romanian Consul-General, Mr. Marcu Beza, was in the preceding car. The Nashashibis across the way have been left alone for several weeks, but one of them has been shot at twice in his shop near Damascus gate. The morning paper reports "Five Arabs Shot Dead By Brigands. Goods-Train Derailed By Bomb-Explosion Between Jerusalem and Lydda." And so the gory tale goes. The police and military regularly search the fifteen-and sixteen-year old boys in the schools which now surround our buildings on almost every side. It is alleged that the yougsters are now shooting. I drove into our grounds the other day, to find soldiers stationed there, to prevent any of the students from escaping through our grounds while one of the identification parades was being held. I served them coffee. If any of the students had come along, I would have served them coffee. While the general tendency seems to be that of shooting first and asking questions afterwards, my motto is to serve coffee first, and ask no questions. It is sad to know, that even if complete peace were to be established tomorrow, it will be many years before it will be possible for us to hike across country as we used to in former years, say from Bethlehem to Frank Mountain, or from Nablus down to ed-Damieh on the Jordan River. It will take a long time before the spirit of "bang, and another red-skin bit the dust" dies out.
February 2
The Knights and Ward left for Galilee after breakfast. P.O.S. meeting at museum this afternoon. I presided.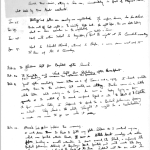 February 3
Just after concluding News-letter no. 2 of Jan. 1 and 2, 1939, I heard 3 shots nearby. Ran to the window, but could see nothing. Fisher came in a little while later. While riding in the bus, he saw a body lying on the ground at the outlet of the second compound beyond us into The Street of the Prophets. A few minutes later, I happened to speak to 2 British police-men passing our School. They heard the shots, thought it might be a Nashashibi, and made no move to go see who it was.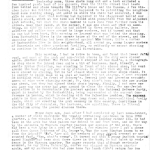 February 6
News-Letter No. 3. [printed document]
Yesterday noon, three shots rang out and a bomb exploded a few hundred yards back of our grounds, down the little street that leads from behind our place towards the Iliffe's house and the Museum. A few minutes later two British policemen, who happened to be patrolling the neighborhood came running along, and asked me where the shots had occurred. I was able to assure them that nothing had happened in the playground behind our tennis court, which at the time was filled with youngsters from the adjacent Arab schools, but that the shots seemed to have come from farther down the street. Away they raced. At the corner, I saw one stoop and pick up something. He told me later that he had picked up three empty bullets. Soon soldiers and police were around in large numbersm by it turned out that no one had been hurt. This morning we learned what was behind the shooting. Issa Nashashibi lices in the corner house at the end of the street, and the shooting and bombing had been directed against his house. Quite a number of Nashashibis live in this neighborhood, all around us, among larger numbers of Husseinis and other prominent families, so evidently we expect shooting to continue in this neighborhood in all directions.
This morning I had to drive to town, and found that the lower Jaffa road, and most of the Arab and non-Jewish stores in the city were closed again. Another strike! The first place I stopped at was Raad's, a photographic shop where the School does quite a bit of business. Raad, himself, a gentle Syrian Christian, was standing in front of his closed shop, but went around the back way and got me my pictures. He didn't know why the shops were closed or closing, but he had closed when he saw other shops close. It is easier to close than to be shot or bombed for not closing. I next stopped on Mamillsh road, in front of Spinney's. Several Arab and Armenian acquaintances of mine were standing around. No, they didn't know what the new strike was about, but they had closed their shops anyway. Finally, I met some one who knew why the order had gone around to close the shops. The non-Jewish population is to demonstrate its protest against the National Defence Party, which is headed by the Nashashibis, being represented at the current conference in London, which is dealing with the Palestine problem. The strike is thus another feature of the long drawn out, inner-political family feuds, which are wrecking the Arab economy in this country. Conditions in the Old City of Jerusalem, for instance, are appalling. There is literal starvation among the poorer classes there.
Three days ago, just after I had completed my last news-letter, a number of shots shattered the usually prevailing quietness in this quarter. A few minutes later, Dr. Fisher cam in looking rather ill. He had been in the Arab bus that passes our Schhol to and from town, and on the way by the entrance to Musrara quarter nearest our section of the city, there had been a man lying in a pool of blood. A few minutes later I got a phone call from Canon Frideman of St. George's. "Was the name Bingham know to me from the School?" "No." "Are all the members of your School present or accounted for." "Yes, what's wrong." It turned out that a young English tourist named Bingham had been shot three times in the back. He had taken up residence in the Musrara quarter. The paper reports that although seriously wounded, he may live. Naturally, curfew was slapped on Musrara quarter again, and my gardener who had gone home for lunch didn't return for two days. The Armenian furnace expert, whom I had asked Mr. Maude to send up to the School to look at our furnaces, couldn't get out, his home also being in the Musrara quarter, which is now completely Arab and Armenian. It has always been until recently, a quiet and respectable neighborhood. I have had to ask the members of our School not to go town anymore through Musrara, although it is a short-cut, – also to other places besides town during recent weeks.
February 7
News-Letter No. 3 (cont).
At 11:30 A.M. yesterday, a cannon was shot off. A few minutes later, and two more blanks were fired. So, curfew again in the Old City! A good thing Shukkri was told to buy half a week's supply in the Suq yesterday morning. It was a 24 hour curfew this time. An attempt was made to murder a Jewish news-paper vendor in front of the old post-office on Allenby Square. The assailant excaped, and the bullets ploughed through the package of newspapers, but did no other harm. The curfew was imposed as a result.
This morning, there was announced the imposition of a fine of 300 pound Palestine on the Musrara Quarter, as a result of a series of outrages there, culminating, according to the District Commissioner's statement, in the attempted murder of Feb. 3 of Mr. Hugh Bingham. While the idea of collective punishment is a familiar one in this part of the world, it certainly works hardships on the innocent, who are in the majority. There are probably not more than ten men, if that many, who are doing all the shooting in Musrara quarter, and yet hundreds must pay for their crimes. My gardenner is a case in point. He came to me half crying, saying that his share was some 27 piastres, about $1.35. He only gets the equivalent of 75 cents a day, when the weather is good and he can work, and of that the office has to deduct a fourth and send it to the court because of a judgement for debt against him. The payment of that fine means hunger for his family. I have written a strong letter to the Officer in Command of the district, and urged him to exempt the gardener from the payment of his proportionate share of the fine.
As a precaution, I have had a lot of staples purchased, and put in the store-room. We could now, in a pinch, live off of corned-beef hash for half a year no matter how many strikes or curfews occur duing the interval.
The badly beautiful weather has finally been broken by a moderate rainfall. After several days of rain almost two months ago, there has been an absence of the normal rains that threatened to bring the disaster of drought to the country, in addition to the political mess.
February 8 [Newsletter No. 3 (cont.)]
At about 6 A.M., an airplane started buzzing overhead, and around the outskirts of Jerusalem. The advent of the new day was heralded by the pilot's use of his machine-gun somewhere near the outskirts of the city. The official communique broadcast nightly over the radio may or may not inform us what this particular morning pleasantry was about.
Lady Petrie went to Gaza day before yesterday to see what was left of the expedition's houses and property there. There was nothing. What hadn't been burned, was smashed to smithereens. Guy returned from a visit to Isbeita, south of Beershba, to see what had been done to the property and expedition house of the Colt-British School of expedition. The same story, only the damage was more drastic there. A lot of material had been stored in the house, including archaeological finds. Searching through the ruins, Guy found several of the inscribed stones which the expedition had left behind. The marauders had returned some time after buring the house, and with degenerate refinement had made a point of using center of each room as a lavatory.
The unseasonal weather has brought an epidemic of cold and flue with it. Practically every one of us at the School has had a more or less severe attack. At the moment, Dr. Fisher is down with a very bad cold, but is already on [entry incomplete]
February 12 [Diary entry]
Atarah had 10 live puppies this morning. I went down to town to Roads to fetch my plate-holders. As I returned my car, which was parked outside Reeds, I saw a little Arab newsboy, who sells papers, handling a small automatic. I drove around the block, and informed the British policeman stationed at Barclay's bank, pointed out with words the boy who was moving up towards the bank at this time. I didn't wait to see what he did.
February 12
Newsletter No. 3 (cont.)
Sunday morning. At about 4:30 this morning all sorts of cars started buzzing around this neighborhood, and then marching troops. No one seemed to be entering our grounds, so I didn't bother to get up. At 6:30 I let my dog out, and then found out what had happened, or was happening. The entire area parallel with a line back of our tennis court down to the Wadi Joz had been cordoned off by soldiers, with one of them stationed about ever 20 feet apart. A big search was going on. Men, women, and children were being roped in, searched, cross-examined, and some arrested. That kept up for several hours. There were special women-police to search the women. What the result of the search was, I don't know. I do know what the immediate effect of the cumulative disorders in this quarter is. All the foreigners are moving out. The Jardines have left, the Fitzgeralds are going, and the Magneses are moving Tuesday. Dr. Magnes feels very unhappy about leaving this quarter, where he has resided for so many years. The murder of a Jewish chauffer directly in front of his house recently made him decide to leave. "Snobs' Corner," as this particular district used to be known is being rapidly emptied of its "snobs." However, it has, temporarily, ten new residents. My Alsation bitch gave birth to ten puppies this morning.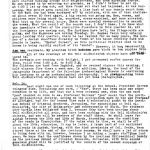 February 13 [Newsletter No. 3 (cont.)]
All of the drawings of the Tell el-Khaleifeh objects have now been inked in. The servants are crowing with delight. I got permanent curfew passes for them, valid from 6:30 A.M. to 8:30 P.M. The Gliddens are back from Baghdad, and we resumed classes this morning. I hold classes five times a week now. In addition, Schweig, the head of the photography department of the Palestine Archaeological Museum is continuing his lectures to us on archaeological photography. I am photographing those Tell el-Khaleifeh objcts which have not yet been photographed.
February 13 [Diary entry]
Cable from Burrows last night saying "Yes," meaning American Philosophical Society had okayed grant for Ezion-geber.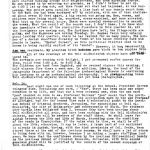 February 14 [Newsletter No. 3 (cont.)]
Last night was one of much rejoicing at the School. President Burrows telegram came, containing one word, – "Yes." There has been only one other occasion in my life, and that was a very personal one, when the one word "yes" sounded so nice to me. Professor Burrows' "yes" meant that the American Philosophical Society, acting on the application made by him and Professor Albright, had for the second time made a substantial grant to the American School of Oriental Research, Jerusalem, for excavations at Tell el-Khaleifeh, the site of Ezion-geber and subsequently of Elath. The students were hardly less delighted than I, because they have been hearing about Tell el-Khaleifeh all year, and have been working with the Tell el-Khaleifeh objects, and now will be members of the staff there. We shall leave for Aqabah between the 10th and 15th of March, depending upon the condition of the roads in Transjordan. If the rains stop in time, we shall be off about the 10th otherwise, it may be the later. A large part of our equipment is already in Aqabah, having, with the kind permission of Col. Peake, been stored down there at the end of the previous season. We shall have a lot of stores to bring down with us, however, because I am taking a larger staff than last year. We hope that the confidence shown by the American Philosophical Society in the American School of Oriental Research, Jerusalem, with this second generous grant will be justified by the results of the second campaign at Tell el-Khaleifeh.
Among recent callers at the School have been Dr. Reich of the Hebrew University, Father Joseph G. Doherty, S.J. of Boston College, Chestnut Hill, Mass.; Father J. Franklin Ewing, S.J., of Fordham University, N.Y.; Father R. Koeppel, S.J., of the Pontifical Biblical Institute, Jerusalem; and Dr. Aage Schmidt, who is spending considerable time in our library, and incidentally saving his friends much concern about his welfare when he wanders around in the Seilun district. Mr. John Cobum of the faculty of Robert College, Istanbul, spent [entry incomplete].

News-Letter No. 4 [printed document]
They finally got one of the Nashashibis who lives across the way. He was badly wounded yesterday morning, walking between Herod's Gate and his house. Who "they" are, is probably impossible to prove, but is commonly suspected. As a result, another 48-hour curfew has been imposed upon this district. This is the second 48-hour curfew this week, which has been a particularly hectic one. Last Saturday, the servants came rushing to me, saying that soldiers were at our front gate, and would let no one in or out. Putting on my coat, – it was raining-, I went out and saw that they were right. A squad of soldiers was standing on the other side of the street in front of our gate, with a machine gun set up and directly facing our entrance. I asked the soldiers I they thought we were harbouring criminals our house, and why the machine gun was pointed in our direction. They laughed and said merely that they had orders to set it up. Meanwhile, I noticed that the entire street was being patrolled by squads of soldiers, and I was informed that our quarter was under a 48-hour curfew. A Russian Christian carpenter, who was worked at the American Colony for many years, had been shot by Arab assailants immediately in front of St. George's cathedral. He was fortunately only wounded in the arm. The assailants escaped. The next two nights, there was enough shooting in our immediate vicinity to keep several members of the School awake most of the night. The patrols of British police and troops have been increased around this neighbourhood. Whole squads can be met with at all hours of the day and night, and military cars 'scoot' by regularly. To cross the compounds in front of our School during this week has been like going through a no-man's land. There is not a soul to be seen. Several times I have walked across and been challenged by patrols. Having a permanent curfew pass, however, I can go wherever and whenever I please. It is not, however, a particularly pleasant feeling to walk about in this section of the town during the curfew periods, when it appears to be completely depopulated. The ordinary difficulties increase. The tradespeople are no longer allowed to use bicycles for some reason or other, according to the most recent military command, in this neighbourhood. We have constantly to devise new schemes for securing supplies for the School during the curfew intervals. I have finally secured permission from the General Commanding Jerusalem to obtain permanent curfew passes for all members of the School and hope to get them now in a few days. The flaring-up and intensification of the troubles during the last two months, the shootings and murders which seem to be directed against persons of all nationalities and races and creeds, and are succeeding in bringing ordinary life almost to a standstill in some sections of Jerusalem and in many districts of the country. One lives in the hope that this intensification of the troubles may be but the prelude to quieter and more peaceful times. Meanwhile, we at the School pursue our own affairs quietly. It is amazing how rapidly one becomes accustomed to the abnormal. The members of the School always inform me before leaving the premises. I usually have a pretty good idea when it is al right to go to certain quarters of the city and with whom.
We are all well at the School, but I fear that Sir Flinders Petrie is rapidly weakening. He is 87 years old now, and it is becoming rather difficult for him to move about. His mind, however, is absolutely clear, and if one broaches controversial subjects, his tongue still very sharp. He sits in his study all day long, and reads and writes as if he were in the prime of his life. He is a magnificent person, and it is a pleasure to see him around.
I am happy to say that Mr. A.S. Kirkbride, at present District Commissioner in Galilee, and formerly the Assistant British Resident at Amman, has just been appointed British Resident at Amman. We at the School are particularly delighted because of our friendly association with Kirkbride, and because of his deep interest in archaeology, in which during his spare time he himself engages. Kirkbride has discovered the prehistoric stations in the Wadi Shobai about 40 kilometres east of Amman, has written on Nabataean coins, and has helped classify the Jerash coins before they were sent to America. The School will find in him a warm supporter of its activities in Transjordan.
Professor Latourette has been kind enough to send us two volumes of his great History of the Expansion of Christianity. We shall look forward to the publication of the other volumes of this work. Dr. W.C. Lowdermilk, Chief of the Soil Conservation Research of the U.S. Department of Agriculture arrived in Jerusalem the day before yesterday with his family. They had driven up in their own car without convoy from Cairo, evidently not knowing that it was supposed to be a dangerous trip. We had them over for tea, together with the Chief Forester of the Palestine Government and his wife, Mr. and Mrs. A. Grasovsky. Whom Dr. Lowdermilk had wanted to meet. Dr. Lowdermilk and his family only remained in Jerusalem overnight, departing the next day for Syria. They plan to return to Jerusalem several weeks from now, and will take up residence here at the School. Dr. Lowdermilk is very much interested in taking a trip through Transjordan, and I have promised to be his guide on a trip either to or from Aqabah.
We have been in correspondence with the Chief of the Economics and Statistics Branch of the Bureau of Mines of the U.S. Government. He has most kindly offered to make analyses of the ore specimens found in our excavations at Tell el-Khaleifeh, and I am sending a specimen collection to him within the next few days.
Doctors M. Evenari, Schwadron and Hareubeni of the Hebrew University have most kindly taken students of the School around their various departments, and shown them their interesting collections. Dr. S. Reich has given a lecture to our students on the famous Ralph Harari collection of Islamic bronzes in Cairo.
February 24
Members of School gave joint tea-party.
—March—
March 2
Raining since Feb. 8. Picard gave a lecture on Palestinian geology. P.O.S. meeting. Knights left Feb. 28. Shipped a box of antiquities to Burrows. Serving tea for British police patrolling this neighborhood. Telephone wires changed to save trees. Rotary club.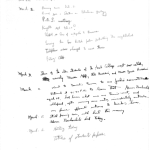 March 3
Three of the older students of the Arab College next door called, namely Musa Afifi, Ali Husseini, and Musa Yurnis Husseini.
Went to David's tower to see John's excavations. Returned at 4:30 P.M. to learn that Aduan Nashashibi aged 18, had been shot near our Tennis-court, and collapsed, after running some meters, immediately outside our fence opposite entrance to Director's house.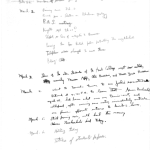 March 5
Still pouring rain, with hail this morning. Aduan Nashashibi died today.
March 6
Hailing today. Titles of student's papers.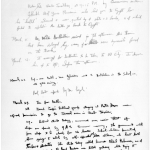 March 10
Helen had Charles Jonathan at 7:15 P.M. by Cesearian section. Sheikh Asuf Yeris Husseini who had gone to Egypt for his "health" returned and was greeted by 8 shots and 3 bombs, 2 of which failed to explode. He better go back to Egypt.
March 11
Dr. Waldo Dubberstein arrived in the afternoon. His train had been delayed by reason of some dynamite found on the track.
March 12
I arranged for Dubberstein to be taken to Old City. I drove him up to Mt. Scopus this afternoon.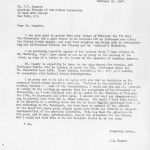 March 20
News-Letter No. 6. [printed document]
We have finally received a setback which no amount of wire-pulling and friendly intervention on the part of the authorities can remedy for the time being. Three days ago, I received a telephone message from the British Residency in Amman which gave me somewhat of a shock. I had previously informed Col. Peake, the Commander of the Arab Legion, that I proposed to arrive in Amman about Monday noon, March 20th, with the members of the staff, on the way south through Transjordan to Aqabah, to set up camp for the second campaign at Tell el-Khaleifeh. I was informed over the telephone that as a result of disturbances which had suddenly begun to take place throughout Transjordan, including the southern part of Transjordan, both Sir Henry Cox, the British Resident in Transjordan, and Col. Peake had after a conference decided to request me to postpone the excavations for the present. There was naturally nothing for me to do but acquiesce. I had already previously sent our chauffeur Ylias Tutandjian with our Dodge station-wagon twice to Amman, to bring over the camp equipment there. The food supplies I had had shipped directly from Spinney's in Haifa via train to Spinney's branch in Amman. It had been my intention to send the architect, the artist, the cook, and the chauffeur on Saturday morning, March 18th, to Aqabah via the Palestine side. I had received the offer of a convoy as far as Beersheba, and a member of the Secretariat was going in his car with our group as far as Aqabah. That group was to have set up as much of the camp as I had stored at the police-post at Aqabah after the close of our excavations last year. The telephone call which came on Friday morning was thus received in time to cancel this part of the trip also. The member of the Secretariat likewise cancelled his trip.
Hectic days are not an uncommon experience during recent months for the Director of the School, but Friday morning was rather out-standing even in this respect. Thursday night I had received the offer of a convoy down the Palestine side as far as Beersheba. I was informed, however, that as a result of new regulation we would have to have Egyptian transit visas for our car to pass through the tip of Sinai which has to be traversed on the way down to Aqabah via the Palestine side. One can get down to Aqabah on the Palestine side, and remain completely within the Palestine boundary by turning off from Beersheba and descending eastward via Kournub and el-Husb to the Arabah, and then directly southward through the Arabah to Mrashrash and Aqabah. However, after last year's trip along the "new" road through the Arabah, I was not inclined to let the car go that way. So early Friday morning I started out to get Egyptian transit visas and then remembered that it was Friday and that the Egyptian Consulate would be hermetically closed. In as much as the offer of the convoy would probably not have soon been repeated, I was about to get in touch with the Egyptian Consul to see if I could nevertheless get him to issue the visas for us even though it was Friday. Then the long-distance phone from Transjordan began to ring, the British Residency Office speaking. This time, however, it was to be a very welcome message. The British Residency Office was phoning through to inform me that the roads in Transjordan were now sufficiently dry for our cars to pass along the desert track to Aqabah. Therein lies another indication of the present difficulties under which one labours today in Palestine. It is no longer possible for the ordinary person to use the trunk lines leading outside of Palestine proper. I happened to mention to the District Commissioner, Mr. Keith-Roach, that this limitation on the use of the long-distance telephone was somewhat inconvenient, because on occasion I might want to phone from Palestine to Transjordan or vice versa in connection with School affairs. With his usual kindness and extreme helpfulness, the District Commissioner immediately suggested that he would arrange to have the School placed on the official telephone list. Shortly thereafter, the Director of the Press Bureau, which evidently has immediate charge over such matters, phoned me and told me they were putting my name down among those who could use the telephone to Transjordan. It would take some days, however, before the permission could be formally granted, and in the meantime he could do whatever phoning for me had to be done. At my request, the Director of the Press Bureau then phones Transjordan to ask about the weather and the condition of the dirt track leading to Aqabah. About an hour later, another phone call came from Transjordan, this time to the effect that troubles had broken out also in the southern part of Transjordan, and that the government would appreciate it if I postponed the excavations for the present. The British Residency Office is to phone me in a few days from now and tell me whether or not the situation has cleared up. If it has, we shall go on to Aqabah, and have a short season there. If not, I shall have to have our equipment brought back Amman, and plan to undertake the excavations next November-December or next spring.
This is the first time during all these years of troubles in Palestine that there have been any disturbances whatsoever in Trans-Jordan. The situation there is completely different from the situation here. There are no Jews in Transjordan, there is no question of Jewish immigration there, and there has been up till now the greatest desire on the part of the population that peace be maintained and that quiet be restored to Palestine. Transjordan has suffered as a result of the disturbances in Palestine, because it has not been able to export anywhere near the normal amount of agricultural produce to Palestine during the last few years that it normally does. The sudden flaring up of disturbances in Transjordan can only be due to outside intervention. There was a large battle near Irbid last week. A strong, armed and uniformed band which seems to have entered from Syria or northeastern Palestine, was surrounded by the loyal Arab troops, and driven into a wadi. Military airplanes engaged in the battle, and the next day we read in the newspapers that the band had been wiped out, and 45 bodies had been picked up by the troops. I am reliably informed that the casualties to the band were much more sever than published in the newspaper. A very large number of bombs was dropped from the planes, some of them of great size, exploding with such effect that the course of the wadi in the vicinity of the battle changed.
The Prime Minister of Transjordan issues a proclamation saying that the punishment meted out to this band should be taken as a warning to others desiring to destroy the peace of Transjordan. I am particularly concerned about disturbances in the Irbid region, because the continuation of the American School's survey of Transjordan depends upon peaceful conditions just in this particular district. The survey has been carried out as far as the Wadi Zerqa, and during the coming year it was our hope to bring it to completion by doing the area between the Wadi Zerqa and the Yarmuk. We still hope that conditions will again become sufficiently normal to carry out our plans. Troubles will also become sufficiently normal to carry out our plans. Troubles also broke out near et-Tafileh and Maan, I am given to understand. Et-Tafileh is only a few kilometres removed from the side of the School's excavations at Khirbet et-Tannur. I am hoping that nothing happens to the police-post at Aqabah, because we have a considerable amount of equipment stored there from last year. This morning's newspaper also reports riots in Damascus with 15 killed and a considerable number of wounded. The witches cauldron is spilling over with a vengeance these days. We live in the hope that the fire can somehow or other be extinguished before civilized work becomes completely impossible and chaos becomes general.
More cheerful news is that the Director's wife was instrument in adding a new member to the American School of Oriental Research Jerusalem, by giving birth to a boy on the evening of March 10th. Both her and child are doing well. About the same time as the new member of the school was entering Palestine, there were considerable fireworks immediately back of our tennis-court. Sheikh Aref Yunis Husseini, who had gone to Egypt for a number of months for his "health," returned to his house which is two doors removed from the back of our grounds. He was greeted by three bombs and eight shots directed at his house. He had better go back to Egypt, or he won't have any health to worry about. The students at the School insist, however, that the fireworks were in reality merely a friendly demonstration to celebrate the advent of the baby.
It has been a pleasure during the last two weeks to receive several members of supporting institutions of the American Schools of Oriental Research. Dr. Waldo H. Dubberstein, or the Oriental Institute of the University of Chicago, who had spent some time at Luxor, came to the School on March 11th, and stayed till March 17th, when he left for Megiddo. Prof. and Mrs. George Dahl of the Yale Divinity School arrived on March 16th, and are staying at the School till April 9th. The military and civil authorities in Jerusalem are very cooperative, and it was possible for me to obtain the necessary travel and identity cards very quickly for our guests. Dr. Dubberstein was able to go in the School car to Amman and back on one of the trips when I sent the car to Amman with camp equipment. Despite the troubled conditions here, by being circumspect, and listening to suggestions, visitors to the School can still see a considerable part of Jerusalem.
The Two Brothers Fellow and his wife, Mr. and Mrs. Donald West, who were also to have been members of the staff at Tell el-Khaleifeh, are now leaving for home. They are sailing this coming Wednesday from Haifa. In as much as the possibility of commencing
The excavations at the end of this month seems remote, I could not advise them to stay over on the chance that the excavations might begin after all. I am sorry to see them go, they are an exceedingly nice and alert couple; they have learned, I believe, much from their stay at the School and their general experiences in Palestine, and have contributed largely to the harmony and good spirits that have prevailed at the School during the past academic year despite the somewhat unusual times. Professor Dahl, under whom Mr. West took some of his work at the Yale Divinity School, is, I believe, also impressed with what the Wests have gained from their stay here. It has always seemed to me to be one of the best investments from every point of view that a divinity student, or any one interested in the history of the ancient Near East could make, to spend at least a year as a student at the Jerusalem School after finishing his studies at home.
Another one of our students, Mr. William B. Ward, who graduated from the Union Theological Seminary, Richmond, Virginia, also left for home about a week ago. He too had benefited greatly from his stay here.
March 21  [Newsletter No. 6 (cont.)]
A whole like of military trucks and armoured cars is drawn up in the playing field back of our tennis-court. Troops are making searches in nearby houses for arms and bombs and so forth. Mr. Reynolds just rode by and told me that the soldiers were tearing down part of the wall around one of the houses in the vicinity, on the assumption that arms or bombs may have been hidden there. The morning newspaper again reports riots in Damascus, and the appearance of barricades in the streets there, and the assumption of all government authority by French troops. It certainly is peculiar that as if almost by signal, a wave of unrest should sweep through Syria and Transjordan, although it is less unexpected in Syria than it is in Transjordan. The fomented disturbances in these two countries are bringing, at least for the present, and effective halt to all archaeological activities.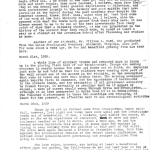 March 22 [Newsletter No. 6 (cont.)]
There is as yet no further news from Transjordan. Heavy rainfall, however, last night and today have once again put the Transjordan roads out of commission. It has, I believe, been almost ten years, at least so far as my experience is concerned, since we have had such inclement weather so late in March. About a week ago, we had the second severe hailstorm this month. It seems that the weather is trying to keep company with the politics in this part of the world. The Arabs have again declared a strike in Jerusalem today, this time against the inconclusive results of the recent London Conference. We noticed older schoolchildren preventing the younger children from going to school.
The late rains, however, are having at least a beneficial effect upon our garden. The fruit-trees we set out last year in the part of the garden in front of the tennis-court are doing very well and are covered with white and pink blossoms. This part of the garden, by the way, is situated over a Byzantine cemetery, which Prof. Burrows excavated in 1931 when he was the Director of the Jerusalem School.
March 23
Professor and Mrs. Dahl and Mrs. Glidden went to Bethlehem in the School car, with Ylias driving. Roof leaks repaired by Mr. Legel [?].
March 27
Tea for Dahls.
March 28
Heard "Cooper" Biblical group staying at Notre Dame was refused permission to go to Jerash even in Arab Taxis.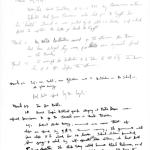 March 29
Partial strike today; announced over radio that if shops are opened by 9A.M. tomorrow morning, the government will force shops to be closed for 36 hours. School-children, prevented from going to school by self-appointed older children, who beat both teachers and students. The strike today called because Abjul Rahman, one of the most important of the band leaders was killed yesterday while trying to break through a cordon thrown by the army around some village.
—April—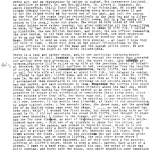 April 5
News-Letter No. 7. [printed document]
We left Jerusalem at 11:30 A.M. this morning in two cars, the Dodge Station Wagon, and the new fourth-hand Willys, that I purchased for my wife several weeks ago, and am christening by taking to Aqabah. The passengers included, in addition to myself, Dr. and Mrs. H. Glidden, Dr. Albert K. Henschel, Mr. Jacob Pinkerfeld, Khalil Yusuf Khuri, and Ylias Tutundjian. We joined the Potash Company convoy that leaves Jerusalem every morning between 11 and 12 for the Potash works at the north end of the Dead and left the convoy at the fork of the roads leading respectively to the Dead Sea and to Allen by bridge. The Wilderness of Judah is still green, but in a few weeks will return to its usual brunt out state. The stops on both sides of the new Allenby bridge were rather lengthy, but after completing all the formalities, we were, by fast driving, still able to get to Amman by 3:30 P.M. I called up Kirkbride, the new British Resident, and Glubb, the new Officer Commanding the Arab Legion, to let them know that we had arrived, and were expecting to be on our way tomorrow with the intention of spending the night in Maan. Glubb is to send me some letters this evening, – at least I hope they get here in time, -which will give us the proper introductions to the police officers in charge of the Maan and the Aqabah police posts. We are putting up for the night at the Hotel Philadelphia.
There is a long and rather weary, and, in one particular instance, heart-breaking story to tell, in order to recount the events that preceded our arrival here this afternoon. To tell the worst first. Late Monday afternoon April 3, Marjorie Iliffe called on my wife at the American School of Oriental Research. My wife is still confined to bed, recuperating from the results of giving birth to a son. Harry Iliffe, was supposed to call for his wife at our place at about 6:30 P.M., but delayed in coming. I offered to take Mrs. Iliffe home, and we were about to go, when Mr. Iliffe came in. We sat about talking for a while, and then at 7:15 P.M. they left. I accompanied them downstairs to the driveway in our grounds, where Iliffe's car was parked, and said goodnight to them. The Iliffes live about three blocks from us, in a house, almost directly above the Wadi Joz, which during the past months has frequently served as an excellent place for assassins to escape after attempting or completing their dirty work. About three minutes after they left, two shots rang out. I paid no attention to them, because somebody always seems to be shooting in our neighborhood. Up till now, however, it has mostly been directed, at least in our neighborhood, by Arabs against Arabs. A few seconds later, the phone rang, and the agonized cry of an English woman came over the phone, "…, my God, my husband has been shot. Help!" I missed the first words, but heard something with an "r" sound in it. I did not associate the sound with Iliffe, but thought it might have been Reynolds. I rushed to the drawer, got my revolver. – yes, I've had one for some time now, as most of the remaining foreigners in this neighborhood have now, – told one of my students to phone for the police, got the car out of the garage, and rushed to Reynold's house, which is in our quarter, and also only a short distance from our house. I fired two shots in the air to attract the police. It did! Mr. Reynolds was all right. Then I drove around the block, picked up two policeman who had come running after hearing my shots, and we raced to Iliffes, the only other house where I thought anything might have happened. All of this took only a few minutes. Arriving at Iliffe's house, which is down a small, narrow, dark alley of a street, I came to a hard stop, ran passed his car, the motor of which was still running, and burst into the house, into which meanwhile some immediate neighbors had already come. There was poor Harry Iliffe, lying on a couch, and bleeding from his upper right lung. Somebody had been lying in wait for him. His habits are known. He usually comes home about 7:15 or 7:30 in the evening. It was an excellent night for a murder, the moon was out, and the would-be murderer was hiding behind a stone wall on the side of the street opposite the entrance to his house.
Mrs. Iliffe had gotten out of the car, and reached the end of the short passageway through the garden to the entrance of the house, and Iliffe had also gotten out, and was about to cross over the narrow street to open the garage, which opens on to the street, when the gunman opened fire. The first bullet missed. Iliffe started to draw his revolver, but meanwhile the second bullet hit him in the back, piercing his upper right lung, and coming out the front side. Iliffe managed to get to the entrance of the house, without apparently being able to see the assailant, who made good his escape. Iliffe's comings and goings must have been watched carefully for many nights, for the attack to have been planned and carried out so successfully. Soon after I entered the house, the physician, Dr. Thompson, who had treated Eleanor Graham, when she was so seriously ill at our School, came in. The ambulance also arrived, and then a whole drove of police cars and military trucks, and soldiers. Iliffe was conscious, as Dr. Thompson examined him, turning his body slightly onto the side with my help to see whether or not the bullet was still in the body or had gone clean through, which it had, fortunately. He will recover, it is thought. Yesterday morning, he had a hemorrhage, but no lobular septisomia has set in, nor any lobular pneumonia. I was at the hospital again this morning, when Dr. Thompson saw the previous night's chart, and he expressed himself as being satisfied with the progress made. – This has been the culminating blow of a terrific series of recent crushing events.
About two weeks ago, troubles broke out in Transjordan, and at the last moment the T.J. Government asked me to postpone the excavations. My equipment was already all in Amman, and the food supplies waiting for me at Spinney's store there. I made arrangements to have the perishable goods withdrawn, and the rest kept for me till I should turn up to claim them or make other provision for them. Meanwhile, I discussed our affairs with our American Consul General, Mr. George Wadsworth, who proved to be most helpful, and as a result of his direct intervention, I received a telephone call from the new British Resident in Amman, Mr. A.S. Kirkbride, asking me to come over and have lunch with him at the British Residency in Amman on Friday, March 31. Ylias and I drove over, accompanied by Dr. Glidden, whom I took along so that he could see Amman while I was having the conference with Kirkbride. Mr. Kirkbride has just been retransferred back to Transjordan, and all of us who are interested in the country are delighted that he has been elevated to the most important post in the country, with the exception of that of Emir Abdullah. In addition, I have known Kirkbride for a long time, and his is much interested in the archaeology and in the doings of our School. When I arrived for lunch on Friday, Mr. and Mrs. Kirkbride told me that I was their first guest at the Residency. After lunch we talked business. The situation, Mr. Kirkbride explained to me, had so cleared up, that he considered it all right for me to go to Aqabah, if I fulfilled certain conditions. The first was that we should not live in tents on the site of Tell el-Khaleifeh, nor near it, but that we should take a house in Aqabah village which is about four kilometres away, and commute to and from the dig. That was a condition which was not too hard to agree to, although it complicates matters somewhat, and increases the expenses. In some ways, it has its advantages. After being in the wind and sand all day long, it will be nice to be out of them in the afternoon and evening, – a matter one cannot be sure of when living immediately on or near the site. As I have explained in the field reports published in the Bulletin of the American Schools of Oriental Research, Tell el-Khaleifeh is situated at the end of what is for all practical and impractical purposes a wind-funnel, – namely the Wadi el- Arabah. As a result, our camp last year, was subject to all too frequent windstorms.
The other condition that Kirkbride made, was that I employ four watchmen. That seemed a little steep to me, but I accepted without demur. It was either continuing our work under these conditions or not working at all. In as much time as I am convinced that the immediate present is the best possible time that can be found, considering the state of public security in this part of the world, and the boiling point that seems rapidly to be about to be reached in Europe, I felt that it would be unwise to delay the expedition any longer, even if the costs were some pounds higher than I had figured on. When one has a comparatively small sum of money to work with, it is especially necessary to economize down to the last mil, but in this instance, the money that I shall have to pay the guards may be considered a justifiable expenditure. And, furthermore, I am willing to wager that I shall get some work out of them, even if they think, and they undoubtedly will, that their job will be to sit around and act as if they were guards. Actually, as I understand it, they are to be employed as a sort of insurance that the tribes to which they belong, and which circulate in the vicinity of Aqabah, are to understand that we are not fair game. After seeing the British Resident I had tea with Major Glubb, who has succeeded Colonel Peake as the Officer. Commanding the Arab Legion. He repeated the same conditions that Kirkbride had made, and wired through to Aqabah to arrange for the house and the guards.
We returned to Jerusalem the next day, Saturday, April 1, thinking that now everything was arranged, and we could start for T.J. on Monday, April 3. I found, however, a letter from my architect waiting for me, saying that he thought his services would no longer be necessary, and that he had arranged to go to Italy. He lives in Tel Aviv. I got him on the long-distance phone, but there seemed nothing to be done about the matter. No other competent architect seemed to be available, and I thought that this time I was at the end of my rope. Dr. Fisher could not come, because he was working on his Corpus of Palestinian Pottery. The long and short of it was that finally I get on to my architect again and he agreed that if I could get him released from his committances [sic] to go immediately to Italy, where he was to do some archaeological work, and get his trip there postponed, he would be happy to join me. That was not hard to arrange. And then on top of all these difficulties, came the attempt to murder Harry Iliffe on the evening of Monday, April 3. I could not possibly leave Jerusalem until I knew that he was out of danger. Furthermore, I could not leave my family alone. The physicians were more than reluctant to come out to the School, curfew was reimposed on our quarter, and might last a long time, and my wife who needed medical attention might be left stranded if I were not present to fetch people from town and bring them back again. As much, therefore, as I hated to do so, I closed the Director's house, brought my family to a hotel in town, and left the School in charge of Dr. Fisher. In as much as I was taking Gliddens with me, there would remain then in the School only Dr. Fisher, Miss Wambold, and the Petries, in addition to the servants, for whom also I have secured curfew passes. The two servants who are left, in as much as I am taking Khalil with me, and the gardener, will suffice to take care of the present residents at the School. Everything finally arranged to my satisfaction, we left Jerusalem Wednesday morning, April 5. Not, however, before another last minute difficulty! My architect called from Tel Aviv to say that the military had closed the Jaffa-Jerusalem road, and his car could not get through. I phones Captain Cuming of the Intelligence service, and he phones back after a while, that the road would be cleared in time for the car to get to Jerusalem before the hour that we had fixed upon to leave and join up with the Potash Co. convoy.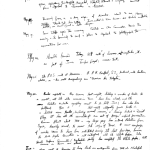 April 7 [Diary entry]
Harry Iliffe shot.
April 8 [Newsletter No. 7 (cont.)
I am writing from Maan, and we are to leave tomorrow morning for Aqabah, inshallah.
I thought that during all the years I have been traveling up and down T.J., I had experienced all the nuances of travel conditions that could be experienced, but live and learn! We left Amman early Thursday morning. It was a lovely day, some butts overhead, and the fields as far as Ziza green with fine young wheat. Even the desert track from Ziza near Menzil proved this time pleasant to traverse. The short lived grass that follows the spring rains had thrust a sufficient number of eager green blades through the soil to soften and almost conceal the burned out brownness which is its usual colour. The trip was at first soothing and healing to one who was rather sore in spirit after the attempted murder on Iliffe, and all the other recent events, and the impact of the happenings in Palestine during the last months and more. Some distance before reaching the station of Menzil, however, my butts suddenly became threatening, and then down came a rainstorm, which seemed in the distance in the south to be a torrential downpour. There was no question of turning back, because in our rear were some mud-flats, which turn immediately into impassable lakes as soon as rain falls. Soon we came to the Wadi Menzil, and behold it was a raging torrent. We drove back a bit, drove the cars over the railway line embankment and onto the tracks and crossed the wadi over the bridge. The Dodge which I was driving was wide enough to straddle the tracks, and could not fall over. The car Ylias was driving could not straddle both tracks and crossed with one set of wheels against the left track, and the other set outside the right track. The passengers walked. There was no place to stop at Menzil, the station-building there never having been repaired since Lawrence, I believe, blew it up. We decided to drive on to the Wadi Hesa station, but when we got there, again a raging torrent prevented passing over on the track that crosses the small wadi, which is really the beginning of the Wadi Hesa. Again we drove the cars onto the railway line, and crossed over the bridge. At the Wadi Hesa station, we met a young English physician, Dr. Jones and his wife, with their cars, in which a dispensary is housed. They travel around among the Bedu tribes and give medical treatment free of charge on behalf of the Transjordan Government. They reported that the track as far as Jurf ed-Derawish was all right, we were going North, and saw them crossing the railway bridge over the Wadi, in the same fashion as we had done. Before arriving at the Wadi Hesa station, I must say, the Dodge fell into a water hole in the road. We tied a rope onto the small car, with Ylias driving, and pulled it out. It had suffered little damages. We reached Jurf ed-Derawish safely, with the road practically dry. The rain apparently had come down in certain areas only. We pushed on then, and got as far as Aneizah, before the road became bad again. The Jones party had traversed this road a few hours before us, and had reported that they had come through with no special difficulty. It was only thirty kilometres more to Maan, so we pushed on. In the Wadi Aqeiqeh, however, we met our Waterloo. The Joneses had said that if we stuck to the track, even if there was water on it, we could get through. Well we didn't. Both cars stuck, and stuck fast, and there was no getting them out, as desperately as we tried. The moral, I guess, is don't do as the Joneses do. Apparentlyit rained some more after the Joneses had passed, and the Wadi Aqeiqeh was being blooded just as we were passing through. By the time we quit trying to get the cars out of the mud, the water had reached the running boards of the cars, and we were all wet. I gave the order then to abandon the cars, and we walked back to Aneizeh, where there is a small Arab encampment. We were received with the same cordial and generous hospitality that I have always encountered in Transjordan. We drank endless cups of sweet tea and bitter coffee, and then were served with delicious sheraq round, thin flaps of unleavened bread, lebn, and goat butter, and dried out around the fire. Later on, blankets were brought to us, and we spent a fairly comfortable night. With the exception of Ylias, and myself, none of the other members of the party had ever had the experience of spending the night in a Bedu tent, and thanked their starts that they were having the opportunity. I was not quite as delighted on this particular occasion! Soon after we arrived there, I made arrangements with the head of the family to get his horse, and ride back, and guard our cars. You will laugh, when you read this, but it was like a movie scenario. Over the hills, beyond the encampment, the moon rose. The tent faced so that we could watch its red and then silvery ascent. The Bedu brought his horse, a beautiful white mare, got his rifle, which I noticed was a 1918 Efield, put on his heavy sheepskin coat, and road out into the night. I fully expected the hero to come back thundering out of the blackness of the night, with the fair damsel slung over his saddle whom he had recovered from the villains. He did return a couple of hours later, to report that all was well, and that the water had not risen. And so ended the day of April 6. I shall not soon forget it.
Bright and early the next morning, we walked back to the cars. The waters had completely subsided. It took us five hours, however, before we could get the cars out of the mud. We had also practically to build a dam around it to keep water from seeping in and covering our work with a muddy accretion. The next few kilometres were bad, and would have been quite impassable the night before, but to our surprise and gratification, the remaining twenty kilometres to Maan had not suffered much at all from the rain. I was worried about the wadi in front of Maan, but it was stone dry. Never have I been more relieved to see the mud-brick walls and palm trees of Maan than yesterday noon. It seemed that we had been on the way for ages trying to get there. As we drove into town, we met a funeral procession, carrying a stretcher-like affair, with a photograph on it of the unfortunate young kind of Iraq, who was killed in a motor car accident a few years ago. He was the nephew of Emir Abdullah of Transjordan.
Arriving in Maan, the first thin I did was to call on the Quaid, to whom I had a letter from Major Glubb, and with whom I am acquainted. He broke the news to me, that the road down the Neqb Ishtar and through the Wadi Hismeh was washed out, that it was being repaired, and that we would have to remain the next day, and anyway he would be able to give me information I wanted to get about the general situation. I was somewhat, but not completely surprised to find Sir Aurel Stein with him. I knew Sir Aurel was in the district, because he is working on the Roman Lines, with the cooperation of the Iraq Petroleum Company and the Air Ministry, which are supplying him with cars and airplanes. I was surprised, however, to find him holding in his hands an aritcle of mine on the prehistoric rock-drawings at Kilwa, which some of us from the American School and the Horsfields, found in 1932, and discussing with Major Goodwin how to get there.
After he left, I had an interesting conversation with Major Goodwin. All is quiet at Aqabah. He offered to send a special military car with us tomorrow, with a detachment of four men, besides the driver, to be sure that we get through all right. I gratefully accepted the offer. We are leaving at 6 A.M. tomorrow morning. All our food boxes, and other camp equipment, which I had despatched by train from Amman, was waiting for us in the station, right opposite the New Petra Hotel in Maan, where we have been staying since our arrival here. Everything has now been packed on a truck we secured this afternoon to take this material to Aqabah. All the cars are filled with gasoline, and we are ready to go. I forgot to say that Major Goodwin had some repairs made on the Dodge, which had suffered somewhat from the vicissitudes of the journey. The official, civil and military, in Transjordan, have always been wonderfully kind to us, and Major Goodwin's assistance is but the latest instance of their helpfulness.
I shall mail this letter now, and write again from Aqabah in a few days. There is a regular mail from Maan several times a week, but the mail leaves Aqabah only whenever a car happens to be passing by, or literally when the camel-police make the round trip between Maan and Aqabah once every seven or ten days.
I wired to my wife in Jerusalem today, and asked also about Iliffe's condition. I have just got the answer from her, that Iliffe is better. Thank God.
I should like to add only that Professor and Mrs. Dahl left the School on April 7, after a seven weeks stay there. It was a great pleasure to have them with us. We gave one large tea for them, to have them meet some of the people in Jerusalem I thought they would like to meet.
April 9
Arrived Aqabah.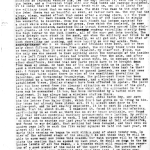 April 10
We left Maan at 6 A.M. yesterday morning, looking like a real expedition. The military truck led, manned by four men and a corporal in charge, and mounting an imposing machine gun, led the way. Behind it, were the Willys, the Dodge, and a Chevrolet truck with our food boxes and camping equipment. It is lucky that we had the military truck with us, and it is lucky for the military truck that we were along. The ride from Maan to the edge of the Jebel Shera was as beautiful as ever, or rather more so. The sky had the clear, clean, washed effect that comes after a strong storm, and the view over the Wadi Hismeh far below the top of the plateau is simply too wonderful to describe. Even the Wadi Hismeh had become carpeted for a short while with a covering of green, from which the isolated, in some instances multicolored, sandstone hills thrust themselves upward like stalwart giants. At the bottom of the roadway spiralling steeply down the Neqb Ishtar to the Wadi Hismeh, all of the cars got into trouble. The three private cars stuck in the sand, and when the military car tried to around to help us, it stuck too. Finally, we all got out, with the dint of much shoveling and pushing, and were happily on our way again. Then, when we thought all our troubles were over, and we were only about fifteen kilometres from Aqabah, the military truck broke down so completely, that it could not be repaired. My chauffeur, Ylias, was the only one who seemed to know anything about the mechanics of the insides of the left front wheel, which had broken away from the axle, and after he had spent about an hour tinkering about with, he, in company with the other chauffeurs, decided that new parts would have to be brought from Maan or Amman. We took two of the soldiers with us to Aqabah, to send a wireless message to Maan, and then Ylias drove them back to their car. I forgot to mention, that when we passed Quweirah, we saw that some changes had taken place there in view of the conditions prevailing in Palestine, and threatening Transjordan. The police-post there has been surrounded by a barbed wire entanglement, and a wireless post has been established there. Similar changes have been effected in Aqabah. The police post has been moved from its pleasant situation on the shore of the gulf, to a high point outside the town, from which all the approaches to the town can be commanded. It too, has been surrounded by a barbed wire entanglement. It has always had a wireless station there. I called on the Officer Commanding the post, Abdul Karim Bey, and gave him the letter from Major Glubb, which Glubb had given me to bring to him. Our house had already been picked out. It is almost next door to the police-post, and is not exactly expensive. It is to cost 35 piastres a month, that is, about $1.50. I examined it, found it quite satisfactory, particularly in as much as there was no other house available, and found only that certain essential sanitary arrangements were lacking. By getting a gang of men immediately to work, I had everything in order by nightfall. We went out to examine our last year's excavations at Tel el-Khaleifeh, and found to our delight, that nothing had been damaged, and that even our wooden pages left to mark the five meter squares we laid out next year, we almost all in place [sic].
Early this morning we began to work with a gang of about twenty men. In view of the advanced stage of the season, I do not think that we will be able to open many new rooms this season. Our main purpose will be to complete the section that we opened up last year. We shall go down to the bottom levels of all the rooms, – a process which will require the removing of a good number of the walls of the upper levels. The question of personnel is much more difficult this year than last. I am being compelled to employ a number of Bedu, whom I know from experience are not worth very much. However, they have an increased nuisance value this year and they know it, and I know it. However, I think I shall be able to manage the situation. With one exception, the guards I agreed to employ all working as ordinary laborers.
April 11
Had 22 men today, and will add a few more tomorrow. We are doing rooms 50 and 49 near the crest of the tell, and they are over two and a half metres deep. It seems to be possible to distinguish four periods. Starting from the bottom, there is a strongly built twon, which seems to have been occupied in two different periods. Then town three, III, was built above it, and finally town IV, the walls of which in parts of the central area we are now opening up are wuite clear, and preserved to four or five layers of bricks. The four levels are also quite clear in room 38. In room 49, we found a small, elongated, round-bottomed juglet with loop handle and potter's mark, – which is the only one I know of thus far, which has a potter's mark It is made of much the same, light, grayish-pink clay, of which the Qesanal pots were made. With it was a lamp of much the same material. The other pottery that has been coming up, is running much the same as the pottery of last year. There are no new types yet. The weather yesterday and today has been fine, with the wind coming from the south, and a fairly choppy sea. The two Bedu, who were to have shown up this morning, did not arrive for work, thank goodness, but they will probably appear later on the scene.
April 12
The working hours have now been satisfactorily settled. There was no question about the working hours on the hill, but our own hours. We now get up at 4:30 A.M., have breakfast at 4:50 A.M., and ride out to the tell at 5:15 A.M., where work begins at 8:30 A.M. At 8:30 A.M. there is a pause of half an hour for breakfast for the workman, and for a second bite for ourselves. We then work on till noon, drive back to town, get back to the tell at 2:00 P.M., when work recommences and lasts till 4 P.M. It is in many ways a considerable nuisance to travel in and out so often, but living in town is certainly more comfortable than living in tents on the site. There we were really never out of the sand and wind. This afternoon, for instance, it blew hard on the tell and out former camp site, and the sand must be pouring down the Wadi Arabah tonight, to judge from the strong wind that we are having in Aqabah.
There are 25 laborers employed today. We are tracing the walls of a large building, which seems to occupy the crest of the tell, and which undoubtedly belongs to the last, i.e., probably the fourth period, counting from the bottom up. On the slopes of the tell the walls of this period are preserved not at all, or only about one brick thick. The rooms on top of the tell, filled with the fallen brick-work of the latest occupation, are the hardest to dig, and have not yielded very much objects during the last three days, since we have commenced work.
Room 38 is particularly interesting, because there we can definitely distinguish three major periods, and it is yet a question whether there were two occupations of town which we call Period I or not. In the smelting building we distinguished at first between Periods I, IA, and II, which I subsequently called I, II, and III. It may be necessary to go back to the first designations, which may correspond better to the conditions as they are developing in the excavations of the town proper.
An EI, rounded bottom lamp was found, unusual in the respect that on the back right side, it had an opening, through which evidently the surplus oil could be poured out. It is record book no. 965.
Another interesting object is a small, elongated juglet, with round bottom and loop handle, which has a potter's mark on the neck. It is Record Book No. 970. In the above mentioned lamp, was the base of another one, with a raised [word missing] of the type familiar from Beth-Zur [word missing] and belonging to the latter part of EI II.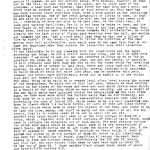 April 14
It is Friday, and out of respect for the religion of the majority of the people in Aqabah, we are not working today. This morning, however, we went out to the tell, to look over the site again, and to study some of the problems. A mean wind was blowing, that drove the sand into one's eyes, and every time we touched a wall, a butt of dust covered us. This same has been blowing since yesterday noon, with a wind almost as bad as prevailing yesterday morning. One of the great advantages of living in town, is that we are able to get out of this terrible wind and the sand that comes with it, – something we were not able to do last year. On the other hand, we lose good bathing facilities, for it is not easy to bathe in town, and the best beach on the shore was directly in front of our last year's camp. Yesterday noon, looking back from our house towards Tell el-Khaleifeh, we could clearly see the dark butt of flying sand hovering over the tell, and moving out towards the sea. "And a butt shall lead them by day, and a pillar of fire by night." If we, however, were to follow the direction of the sand moving over Tell el-Khaleifeh, ours would soon be the same fate that overcame the Egyptians when they pursued the Israelites upon their departure from Egypt.
It was impossible to do any planning with the plane-table and the tapes yesterday and today. We did a little leveling today, and will do some more tomorrow. I am going to use all the men tomorrow to clean up in so far as possible the rooms we opened up last year, and get the levels, if possible. It will probably take more than one day to get the rooms ready for levelling [sic]. In the street 26 we opened up last year, there are large sand drifts, which, however, we shall be able to move rapidly. Several problems with regard to walls which we could not solve last year, can be answered this year, because the bricks have sufficiently dried out to enable us to see things that were not formerly visible.
The ideal thing to do would be to remove level after level during the course of the excavations. We could not do this last year, because we were working mostly on the slopes of the mound and were not sure which levels were which. As a result of the levelling which we have done recently, and as a result of the new walls which have appeared during the excavations of the last three days, we know much more about the varios walls that we did formerly, and will soon be in a position to make a comparatively complete town plan of especially the town of Period III, which seems to be the best preserved one. Even in places where the various levels, or parts of them are clear during the four stages which seem to cover the history of the town, are clear to us, we lack the time, money, and staff to carry out the removal of all the top levels, that is to remove level IV to get to Level III and etc. Another very large copper nail came up on the fery syrface of Room 25 A today, which, together with the other portions of similar nails found, would seem to indicate the extensive use of such nails. The most obvious purpose for which such nails would be used, would seem to be the construction of small boats, which during the EI Age plied the waters of the Red Sea, (the Gulf of Aqabah) in large numbers. In addition to these nails, a piece of asphalt was picked up on the surface of Room 53, which in all likelihood, was used for the caulking of boats. Quantities of copper fragments keep coming up from the various levels, particularly the III and IV levels, and thus far, the best copper finds seem to have been made in Level IV. On the top of Toom 53, I found another black glazed Greek sherd of about the fourth-fifth century B.C.
In the levelling of Rooms 35 and 35 A, it was clear that there were four levels, the first two being little more than noticeable, the IIIrd, being the best preserved, and divided into IIIA and IIIB, and the IVth on top being in most places less well preserved. Period III is generally speaking the best preserved. To it belong the Qesanal seals in IIIA.
April 16
Today was beautiful in every respect. As we drove to the tell this morning, before the sun had risen, the dark hills, and the blue gulf, and green palm trees were bathes in a soft light that made them all stand out in a subdued clarity, not concealed by heat waves or by blowing sand, nor with their lines effaced of all the shadow contrasts which give them body. The augur of the early morning was borned out by the rest of the day which was a quiet one, enabling the architect and his assistant to go on with the planning, and the rest of us to work without being harried and wearied by driving wind and blinding sand. There is little new to record, as we are systematically going over all of the old rooms, and getting down to the bottom foundations, without removing the walls superimposed for the most part over each other. It is now clear, that the best built, most spacious, and well planned city was the first one erected on the site. We worked with 27 laborers, men and boys today, and I am putting 6 new men on tomorrow. I shall increase the number to about 40, which is about the maximum that we can supervise with the present staff. Some copper strips were found today and yesterday with indented, point designs on them, and also several new pieces of pottery. From Room 53 came two peculiar objects, one a clay, (semi-pottery) disc, which looks as if it might have been a game piece, and the other a flat, heart-shaped stone, -the purpose of which I cannot understand at the present.
The pottery fragment which came up from this room yesterday, with a series of the same seal impressions on the two remaining handles and the rim has been cleared. There seem to be represented a human figure, standing between a jug and a large zir, with an ankh (?) sign above the left shoulder of the figure.
A fragment of a clear iron chisel was found in Room 15, at about 1.50 m. It is the best preserved iron article, with the exception of the iron dagger which was found several days ago, and which is recorded under no. 995 in the Record book.
Every phase of the four (?) levels in the town seems to have been destroyed by a severe burning. The brick work is much inferior in the later periods as compared to the earlier periods, or rather to the first period, when the bricks used measured exactly 2 to 1.
Living in town has its disadvantages too. I am plagued by people pestering me for work, and I was able to choose my own time for adding people to the staff. Had out neighbor in to tea this afternoon, who told us a good deal about the life in Aqabah. I found out to my surprise, that all the gardens in and around the town are owned by the Bedu. The people of Aqabah are allowed to use the land for their vegetable gardens. All the palm trees, however, or almost all of them belong to the Bedu, who come here during the month of August when the dates are ripe, camp in the gardens along the seashore, and eat up all the dates during the month of their ripening. The people of Aqabah, who of course take care of the trees during the year, and water them, get the fruit of one branch of each tree. The mukhtar, Abbas Mohammed, earns much more working for me, than he receives for being the mukhtar of Aqabah. He receives only a piaster for every person who dies or for every child born. His duties consist in registering the fact.
April 18
We are working with 32 men, and up till today, the work has practically been only the cleaning out of old rooms, and going down in them to the bottom levels without removing the superimposed walls. Al least on the slopes, the later walls have simply been interposed between the older walls, particularly between the still standing walls of I (and II (?)) [sic]. At the north end of the site, we are finding some walls, which at the present make no particular sense, and which I doubt whether or not I shall have time to finish having traced this season. One new room is proving to be especially interesting. It is room 45, on the west side. Gharib who has developed into the most intelligent worker of the lot, has dug down to what seems at the moment, without our having undertaken any levelling, to be either period I or II, and has found a room consisting of a series of large hearths. Four of them are still visible, occupying more than half of the room, and there probably was one more. It must have been a room devoted to some sort of manufacturing or baking purposes, more likely the latter than the former. Most of the sherds found in this room, particularly at this level, are of the ledge-handle and horn-handle type. This rough type of pottery is not, however, limited to periods I and II, but seems to occur also in Period III. I have yet no definite evidence that it occurs in Period IV.
In room 49A and B, where we have the thus far best preserved large room and wall of Period IV, and which I am digging into very gradually, is yielding the first sherds, which I can definitely designate as belonging to Period IV. They are for the most part of the above-mentioned hard baked, grayish and greenish sherds. We found a piece of an alabaster cup, and a small faience bead in it today.
The most interesting find of the day, -and during the last few days it has been possible to list our finds on the fingers of one hand-, is a glass bead found outside the north wall beyond the north end of Room 17A. It seems to be Phoenician in type, although I am not sure it may not have come from Egypt; it has three eye-like projections on its sides, with two bands of white inlay around them. This glass bead was found about 20 cms. Below the surface, and might belong to almost any period, although the wall by which it was found, would seem to belong to Period I or II.
April 19
It was overcast, and rather pleasantly cool this morning. This afternoon a strong wind blew from the southeast, and drove the sand over the tell with great force. It must have been such a wind, that drove Jehoshaphat's ships on to the rocks. We have been going down very carefully in Room 49A and B. Among the most interesting finds were some black glazed Greek sherds, one of them with the bust of a figure in red on it, which can surely be given a fairly exact date in the fifth or fourth century B.C. In as much as most of the Greek sherds were found in a depth no lower than 20 cms. Below the surface, I am not yet convinced that the room proper belongs to the Greek period, and not the last phase of EI II, to which some of the sherds found from the surface to 50 cms. Belonged. We are, however, coming to a burning at about 60-80 cms. In this large room which I have for the present assigned to level IV. This lover level in Level IV may be the last period of Iron II, although it would still be well down into the sixth century. By paying bakhshish for every object, a large number of the smallest carnelian beads are being found. In Room 49, in addition to EI II sherds in the top level, there was also found part of an incense stand, similar to several found in clear EI II rooms last year. In the top level of Room 49 and in the top level of Room 50 a fairly large number of large and well preserved copper nails is being found. The passageway leading from street 26 to Room 45 has now been opened up. It passes by Rooms 34 and 40, to which doors lead from this passageway. In these rooms, ornamented ivory inlays and cylinder seal finds have been made. A seal stamp of clay, with a stylized palm tree design was found in Room 49 B. For details with regard to these rooms and the finds, both my field note-book and the Record Book should be consulted.
April 21
This is the second Friday since we have been here. The work has been going very slowly, with no startling results. However, in as much as my purpose this season was to complete what we had opened up last year, I have no grounds for complaint.
Living in town this season, has presented some new aspects of life in Aqabah, which had not stuck me so forcibly last year. Modern Aqabah, more even than ancient Ezion-Geber, is a desert town, and I am told, looks exactly like other town in Arabia, such as Tebuk, for instance. A fringe of palm tees inside of mud-brick enclosures, a number of shallow wells, half tumbled dozen mud-brick houses clustered together around a few twisting streets, along one of which are several stores, a police-post manned by half a dozen or so picturesque Bedu policemen, and 18th century Turkish ruined castle, – form the general aspects of Aqabah. To the east of it, immediately above it, tower the black hills that stretch far into Arabia, and border the Arabah. To the west, the stretch of the Arabah, and then the hills of Palestine and Sinai. To the south of it, the Gulf of Aqabah, which is today commercially unused. The inhabitants of Aqabah do some fishing in it, mostly by throwing nets off shore, but there is no traffic on it at all. Yesterday, a motor launch anchored off Aqabah, being a small pleasure boat that seems to have come from Suez. The inhabitants of Aqabah, who today number about 300, man, woman, and child, live a hard life, and have no real occupation, except tending the meager gardens, the palm trees, fishing, and making baskets for the tourist trade that is non-existent, particularly this year. Ropes are also made of fibre from palm trees.
All these activities were carried on in ancient times in Ezion-Geber, but only on a greatly intensified scale, and by a population that must have numbered at least a thousand. That baskets were made at Ezion-Geber is known both from the mat impressions on the bottoms of pots, which were thus built up on a mat bottom, and from actual fragments of burnt baskets and ropes that we have found in the excavations. In addition, of course, there was the preoccupation in each of the four main periods at Aqabah with the refining, manufacturing, and export of metal objects. We found a well preserved in bronze (?) weight in Room 40 yesterday, and 1.50 m., i.e. below the main burnt level half way down the room. In addition, there was a considerable amount of weaving. Loom-weights, made especially of clay, have been coming up in large numbers from various rooms. What the ancient inhabitants of Ezion-Geber wove is not clear, but it is most likely that they wove nets. Fishing was carried on intensively, to judge from the large numbers of fish-bones in every level on the site, the copper-hooks, and the stone weights used as sinkers on the lines. Today, the natives simply tie any old stone to a line, when they venture out in the few boats at their disposal to go fishing that way. Boat manufacturing must also have been carried on. There is no other place from which the boats might easily have been brought to go fishing in, transport produce, and import foreign goods in exchange. There were palm trees around Ezion-Geber then as there are today, only, it would seem that the groves were much more extensive then than now; and the large numbers of very large copper nails must have been used at least in part for the building of boats. Another activity, extensively engaged in here, was the manufacturing of beads of various types. Quartz, turquoise, amethyst, agate, glass, mother of pearl, and shell beads are being found in large numbers, and with the exception of the glass beads, chunks of the raw materials from which they were made on the spot. I forgot to mention carnelian, and garnets. All of these raw materials come from the adjacent mountains in Sinai. To this very day, the mother of pearly which is used in Bethlehem very extensively for the manufacture of amulets of various kinds, is imported from Aqabah, – where, however, the bead manufacturing activity has completely disappeared.
The central importance of the palm tree I the life of the ancients is emphasized again this year by the discovery of potters' marks, which are crude replicas of palm trees, and by a clay seal, with the palm tree design on it.
Another indication of the cultural relationship with Egypt, or perhaps rather of the commercial connections with Egypt, was the discovery in Room 49 B of a tiny Bes head made of very friable paste. It was in the form of a bead or an amulet. Either it was left behind by some Egyptian, or by some native of Ezion-Geber who had been to Egypt of Sinai, or it was left in Ezion-Geber in the course of normal commercial exchange. One must also take into account the strong Egyptian cultural influence in adjacent Sinai, so that in addition to the gods of Arabia and Edom, the gods of Egypt must also be considered as exercising some influence in Ezion-Geber.
I forgot to mention that the manufacture of pottery was evidently carried on here to a considerable extent. However, pottery of the better sort must have been rather expensive as compared to the baskets which could be cheaply made, because most of the finer pots which were broken while still in use, were evidently immediately repaired by boring holes on both sides of the break or crack, and tying the pieces together with thongs.
Another indication of possible Egyptian influence seems to be a cartouche like seal impression repeated a number of times on a sherd that we found, together with two of its handles; the seal has a canteen (?) tied to a sword (?), next to which is a large basket (?) or pot (?).
The extensive use of metal tools is indicated by two or three real whetstones, which have been discovered in various places, on which obviously the tools were sharpened.
There was evidently a small Greek settlement here in the fifth or fourth century B.C., perhaps only a very small one, but nevertheless indubitable traces of it have now been found in a number of black glazed and partly red glazed Greek sherds found on the surface of the tell this year, as well as last year, and also several such sherds, including one with the upper half of a human figure on it, found in Room 49B down to a depth of 20 centimetres. That the room was not built by the Greek settlement, and that at the most the Greek period settlement only occupied the uppermost part of the still standing walls of the last EI II settlement, is indicated both by the more or less surface nature of the Greek type sherds, as well as by the fact that even from the surface down to 20 centimetres, and that is certainly down into the rest of the room as far as we have gone, that is to 1.20 m., the sherds are pure EI II. With regard to Room 49 B, it may be that this room was built in Period III and reused in Period IV, although there seems to be no question but that room 49A was built only in Period IV, with its east wall joining onto the east wall of Room 49 B. There seems reason to believe also, that in some of the rooms we can distinguish between Period IVA and IVB; there is not enough proof, however, as yet, to make that a definite statement, by which I should be willing to stand. The only definite statement, for which clear proof is now available, that can be made, is that there are certainly four periods of occupation on the site, that is four main periods, including the fact that Period III is to be divided into IIIA and IIIB.
Today is the first pay-day. I am afraid that I shall soon have to have a show-down with the Commandant here, who seems to be trying to run my business for me, by telling me whom to hire and whom to fire.
April 23
Room 50 has for several days been a problem, because we were not able to find any of the upper levels. Finally, two days ago, we came to the level occupied by the great broken zir. The earth above it was a great mass of debris, with mixed burning in it which could not be disentangled, and the large and wide stone wall which stretched across Room 50 from south to north, and which undoubtedly belongs to Period IV, perhaps to a late period of IV. Today, however, things began to clear up radically. At least on the level of the broken zir, which has now been photographed, we found the pottery, much of it intact, of a fine occupation, and of representative types. Bedsides the zir, there is a broken, cruse hearth pot, a jug, and rounded jug, a cup with broken loop handle, and intact bowl, as far as we have gone. They have all been photographed and drawn in position. We excavated today and also yesterday in the debris above this level of the zir, and collected masses of sherds, which I began to go through this afternoon first. To my surprise, I soon came across an ostracon among the sherds, a small one, and then another one. I called Harold Glidden to me then, and he began going through the sherds, and found still a third one. We have collected every scrap of pottery in the room, and brought three baskets full home to go over very carefully in case there are other sherds. In as much as all of these sherds come from the debris level above the zir level, and in as much as sherds come from the debris level above the zir level, and in as much as one basket which had the best ostraca sherds are of the hard baked type, which, as I have previously noted, belong especially to the topmost level. The clearest ostracon has letters which are half square Hebrew and half Aramaic in type; two of the sherds require treatment before they can be read, one of them being too faint, and the other being covered with sand and salt accretions. If I am not mistaken, one of the words, twice repeated on the largest and clearest ostracon, reads "Turi-el," namely "my mountain is god." It does not at the moment seem too far fetched to associate this deity with the deity of the mountain Horeb and Sinai, according to various accounts, who figures in the accounts of the Exodus, and in the story of Elijah's flight to Sinai.
Also found with the ostraca was a small stele, which I have not had time further to examine, but which has no inscription, although it appears at first glance possibly to have some sacred significance.
The idyllic peace of the last two weeks has suddenly been disturbed by the arrival of post from Jerusalem, with the news of the mad world outside of our little archaeological retreat, where busied with the problems of unraveling the past, we have forgotten the ills that threaten to destroy the world of a few miles away.
April 25
I have never in my life previously been interested in nails and ropes but have recently developed an interest in them which amounts to an almost consuming passion. Of course, they are nails and ropes found in our excavations, and have a direct connection with the understanding of the activities which flourished I Ezion-Geber: Elath in the past. Such large quantities of ropes of all sizes have been found in the southwest part of Room 49 A, the section immediately south of the hearth room 49, that a special explanation is required. We have found fragments of ropes during the previous season of excavations, but never such large quantities in one room. One may assume that either the ropes were manufactured in this room, or that they were stored there, or sold there, – it being a sort of fuller's shop. There are two main kinds of ropes, aside from their thickness. Thone one kind is made of twisted palm leaves, in exactly the same fashion as such ropes are made today, and called locally, Jarid ropes. Such ropes have thicknesses varying from 7 mm. of each of two strands woven into the ropes, totaling 13 mm., to 2 strands woven together measuring 9 mm. for each strand and 14.
The third type of Jarid rope, made of 2 strands, measures, each strand 10 mm., and the rope 17 mm.; the fourth of this type of 2 strands each, measuring 9 mm. for each strand, and 18 mm. for the entire rope.
The other type of rope, used for much thicker ropes, and made of 3 strands of each of the small, fine fibre inside the bark of the tree, and called lif, is a ropes, which in its various thicknesses is made of three strands of very fine fibres. Each strand of one rope measures 13 mm., and gives a rope thickness of 25 mm.; another type of lif has three individual strands of 16 mm. each, giving a rope of about 30 mm.; an isolated strand of a large lif rope measuring 17mm. The large strong ropes could hardly have been used for much else than ship ropes, and the smaller ones also played their role in the life of the ships, or rather small boats, of which the local fleet in ancient times beginning with Solomon especially, was probably composed. Of course, in a busy industrial city, many ropes must have been used also for tying up bundles of objects, in addition to smaller ropes used for handles of palm leaf baskets as they are to this very day. The interest in the large nails which seem to occur in almost ever level that can clearly be marked, but particularly in levels IV and III, counting from the top down, and which are generally speaking the best preserved levels, in also connecting with the shipping industry, because they were used, at least many of them must have been used, in the construction of boats, made probably fro the hard oak wood. It might be noted here that the stand of oak forest on the southern Edomite plateau, and on the slopes of the hills leading down to the Arabah, was still so extensive during the 1914-18 war, that the Turks and Germans built a special railway line from Jurf ed-Derawish to near Petra for the sole purpose of cutting oak timber, and hailing the lumber out.
Our interest in the finds in Room 50 continues to grow. Aside from the ostraca, which probably belong to the topmost level, that is, Level IV, there remains the large zir, and the associated pottery found with it, at what cannot be later than Level III not earlier than Level II. The exact levels must be taken, – have been taken, – and worked out. What turns out to be of great interest, is that again on this zir, as on the large zir discovered last year in Room 40 (?), I believe, there is a Winean inscription, (to use the terminology given by Ryckmans in his article in RB, in which he discusses the inscription found by us last year). I think furthermore, that the comparative levels will turn out to be the same, and that both incised jars, marked with Minean inscriptions, will be on the same floor level, and belong to period III. The fact that another such large jar has been discovered, incised with a Minean inscription, monogram (?) J. ends added probability to the suggestion previously made by us that there was a considerable amount of caravan traffic between southern and central Arabia, and the important town located on the crossroads, namely Ezion-Geber. It also makes it probable, that some Mineans (Midianites (?)) lived in Ezion-Geber, and that the traditions of Sinai and Arabia were well represented in Ezion-Geber. I mention this because of the fact, that it seems to me more and more probable, the god "Turiel," can really be identified with the mountain god of Sinai, whose traditions continued to prevail in a stronger form in a place such as Ezion-Geber than they could have prevailed say in northern Edom, or even in Judah. It should nevertheless, be remembered, that also in Judah the tradition of the mountain god was very strong, because it was to the mountain god in Sinai that Elijah fled in his hour of distress, and not to the god whose sanctuary was in the temple in Jerusalem. The relation of the god Qos to Turiel has to be determined. One of the Qosanal stamped handles was found in the bone level, immediately underneath the large zir with the Minean letter [rest of entry cut off].
April 25 (cont.)
Indicating, that either it may have been carried upward from period IIIA times, or that the same type of seal may have been used in the IIIB period, or that being found in what appears to be completely debris, even though I have tried to distinguish levels in it, no conclusions may be drawn from its position.
Another indication of the extensiveness of manufacturing activities in Ezion-Geber is the hearth rooms, in what I think will turn out to be Level II, namely rooms 49 and 45. The rooms were apparently at one time almost completely covered with baked mud hearths, although it is not clear to what purposes they were devoted. In room 49, at the hearth level, some heath pottery, with horn handles as found, and at the n.w. corner, the remains of a fireplace, with black charcoal fragments in it. Also a large shell, and some small stone weights were found at this level. There are probably other rooms which are also filled with hearths in the same fashion.
A number of interesting small objects has been coming up. One of the most interesting was a small bead seal, with 2 birds visible upon it, among other things, found in Room 49, at about 1.20 m. I have not yet discussed the levels of this room with Pinkerfeld, nor have the levels actually been taken as yet. The bird motif is one which occurred on various objects found last year. In room 33, at 2 m. the fragment of a figuring was found; the breaks were old, and only enough remains to be tantalizing; on the round, tube-like section of pottery body, is clearly placed the left hand of some one, with furthermore, a bracelet painted on the wrist, and other lines of painted on the round stand part.
Another important small find was made in room 50, in the bone level, that is below the zir level, and therefore belonging in all probability to Pd. IT – namely a broken loop handle of a fairly large zir, with two similar stamps on the handle. The stamps represent a seated deity, holding a supplicant (?) in his hands, while in front of him stands a small figure, facing, to judge from the position of its feet, away from the deity.
In this level II of room 50 is a hearth, at the bottom of which was a hand-made hearth pot, all the pieces of which we have recovered (Record Book no. 3026), and which had been anciently repaired, to judge from the holes along side of two cracks. It is interesting that in so many cases, we have found pottery which was anciently repaired. Many examples are not lacking also for the repair of crude pottery. The only explanation I can offer for the carefulness with which pottery was preserved here, is that pottery was rather expensive, not because of a lack of potter's clay, which is to be found directly on the site, but perhaps because the pottery kilns required comparatively extensive supplies of wood. Of course, in other excavations too, examples of repaired pottery have been found, but I have never seen as many in sites I know in Palestine as we have found here. Today, no pottery of any kind is made in Aqabah. In fact, most of the things that the people use here, from shoes to sups are imported from Japan.
It seems that the east street is built on the extensive burnt layer of II, and that room 60, for instance, was first built on the burnt layer of II, although no walls of II are visible. Much of the standing town would seem then to have been erected in IIIA, after a terrific conflagration which destroyed Period II. Period I built the best walls, reused in part by Period II, and in Period III almost a completely new town was erected, used in IIIB, although some new walls were built also in IIIB, where the walls of IIIA no longer sufficed. There was a general new building then al [rest of entry cut off].
April 27
It rained last night somewhat, and when we got up this morning, the skies were covered with black, lowering butts, and the dark hills on both sides of the Arabah were more funereal and spectral than ever. When we left the house at 5:15 this morning to drive to the tell, it began to rain rather hard, but only for a few minutes, and then stopped. This process kept up all morning, and we would run from the work to take shelter in the car which we now drive to the side of the tell. The phenomenon of black butts, rain, thunder, and lightening, while common in other places, is so unusual here, and at this particular time of the year, the combination of natural elements that we saw today must be striking to the inhabitants of the surrounding desert lands, who are used during the greatest part of the year to complete lack of rain, to burning heat, to fierce sunlight, and singing sands. It was such a phenomenon, which is perhaps at the back of the Elijah story in connection with his visit to Sinai, who is apparently reflected in the tradition which continued itself down to about the end of the history of Elath in the name of Turiel.
Pinkerfelt and I spent all day today going around the rooms, – we did twelve of them, – and discussing the various levels in them. As a result, the conclusion obtrudes itself more than ever, that there are four main periods of occupation in the town. Period I, was the best planned one. It was as if some one had come with a prearranged plan to set up a factory site, and carried out the plan carefully. More and more it begins to appear that Period I was connected with the refinery particularly, and that the rooms of the city were used to house slaves, employed in the smelting plant and the subsidiary activities. The Anlage at Kh. En-Nahas seems to be closely related to the plan of Period I, as it seems to be shaping itself. Period II is rebuilding in part of Period I, after its destruction by fire. The fire which destroyed Period II, however, was a terrific one, the traces of which are clear over most of the city, and required the building of a completely new city upon it. The city that rose on the ruins of I and II, and in only a few instances reused partly the walls of I, and sometimes of II is city III. It is to Period III, that most of the present plan of the ruins is to be ascribed. In most instances, the walls of II especially, and also of I, outside of several main walls of I, have been so destroyed, that there is little left of them, except traces of burnings. The city in Period III followed to some extent the plan of II and I, but seems generally to have been much larger than the previous I-II city, and in many instances to have built on a new plan. The first city of Period III, that is IIIA was destroyed by fire, and the city almost immediately reoccupied on a higher level in practically the same walls which were merely added to in most cases to obtain the necessary height for new houses. A large fire destroyed this IIIB city, and then the city of Period IV was built on it, of which, however, only a comparatively small portion has been retained, (one or more brick row high, rarely more than three brick rows high,) on the highest part of the tell.
In the two east walls which seem to belong to Period I, the easternmost is apparently an unbroken one, and the section west of it going north and south is broken up into various sections, with apparently no originally I partitioned walls between them to make real rooms. Pinkerfeld thinks that there were partitions merely of matting or reeds or palm branches, and that in the rooms thus formed, the slaves were quartered. Several partition walls which we did find between the two north and south lines of the walls of Period I on the east side of the mound, seem to belong to Period IA, or perhaps preferably to Period II.
April 28
We have been in Aqabah since the afternoon of April 9th, and have shaken taken into the excavation routine and manner of life here. As a matter of fact, only a few days after we had been here, we already felt very much at home. Aqabah is very peaceful. Were it not for the newspapers and mail that arrive from Jerusalem about once a week or so, it would be possible to think that we were still living in the best of all possible worlds. Hardly a sound of the turmoil that rages in the European mad-house penetrates through the desert reaches to this little oasis, snuggles against the hills on the shores of the Gulf of Aqabah.
Some of the news that reaches me from Jerusalem is good. My wife and baby are getting along well. The School is in good order, and Dr. W.C.Lowdermilk and his family are staying there now. I had left instructions to have them put up in the Annual Professor's apartment when they arrived. Dr. Lowdermilk is the Chief of Research of the Soil Conservation Service of the U.S. Department of Agriculture. He writes me that he is coming down to Aqabah with his family to visit us here. They will be most welcome. I had panned to travel with him through Transjordan, in order to help him study problems connected with his special field, but the delay in arriving here will now make it impossible for me to leave Aqabah at a time convenient to him. There are no visitors to Aqabah this year, which is in strong contrast to last season. It is much more difficult for people to get here now. The road through Palestine is practically closed to tourist traffic, and it is not easy for the normal traveller to get into Transjordan these days.
This is Friday, the day on which we don't work out of regard for the religion of our laborers who are all Mohammedans. As a matter of fact, we haven't worked very much this week, so far as actual digging is concerned. On Wednesday, such a strong sandstorm blew up in the morning, that after two hours work, I gave the signal to close down for the day. We went home, where we had plenty to do inside. I also called off work yesterday, so that I could go around with the architect and discuss levels with him in most of the rooms. As a result o the work thus far this season, which has been confined mostly to cleaning out more completely the section already opened up last year, we know much more about the various levels than we did last year. I am not going to go into any detail no with regard to the results obtained this season, as far as we have gone, but will wait until the close of the season, when a more satisfactory summing up will be possible. We are working with and average of only 30 laborers. With the limited staff at my disposal, I find that is all we can safely employ, without the dig running away from us, so to speak. In a place such as this, where brick walls have to be worked with, and where many of them have fallen down and sometimes filled the rooms they bounded, it is necessary to work with the utmost care. It would be ideal, if one member of the staff could stand by and control the work going on in each room. As it is, I am working only three rooms at a time, which I have to supervise mostly by myself. The architect is busy planning, or levelling after I have discussed the rooms with him, and then working out the details at home, the draughtsman is engaged in drawing pottery, and helping the architect, Dr. Glidden is doing the photography and developing, which is unusually difficult here, and Mrs. Glidden is keeping the Record Book, and helping mend pottery, in which the rest of us also engage during odd moments, but at which Dr. Glidden has shown himself especially proficient. We shall no where near have finished by the second or third week in May, which is about the latest we can stay down here. I am hoping that funds will be made available, so that we can return during the winter, or again next spring. This is the sort of a site, whose secrets have to be manicured out of it.
I find it necessary, after reaching a certain stage in a room, to leave it alone for a while, and then come back to it. Sometimes, after a few days, the newly opened area has so dried out, that it is possible to distinguish fallen brick from standing brick walls, and so forth. A number of problems of that nature, which we could not solve last year, were easily answered this year when we returned, and could see walls and bricks that we could not make out previously, and had simply left, rather than take the risk of cutting through them unwittingly.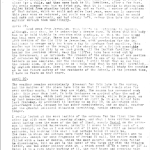 April 29
Good news from Jerusalem, that Iliffe is continuing to recover, although, poor chap, he is undergoing a severe cure. It seems that his body has to be held tightly in position with sandbars, so that the lung wound can heal more rapidly. There has been a four day curfew imposed on the Arab section of the Old City in Jerusalem, with permission for the inhabitants to emerge only two hours a day to purchase food supplies. This curfew was imposed as a result of the shooting of a British constable on duty in the Old City by an Arab youth. All of the English families living behind the American School, near the Iliffes, have been moved out by the Government, I am informed. The process of the evacuation of our section of Jerusalem by Europeans, which I described in one of my recent News-Letters is now complete. For the present, I still think that we can keep the School open. We are situated on a main road that is now well patrolled by English constables. When I return to Jerusalem, I shall study the question as to the future safety of the residents of the School. At the present time, I have no fears on that score.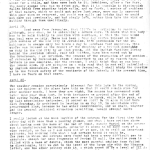 April 30
The weather remains surprisingly pleasant for this late in the spring, but the natives of the place have told me that it would remain nice for over another month. I hope they are right. The season has commenced much later this year than last. In both instances we arrived after the end of the spring rains, which last year were over in March, while this year, as my last news-letter indicates, it poured on April 8. It also rained here last Thursday. My architect is leaving us on May 10, in accordance with prearranged plan, because he has other commitments, and we shall, weather and the genera political situation permitting, remain several weeks longer.
I really looked at the most legible of the ostraca for the first time the other day with more than a passing glance, and what I have written above about having seen the name of the God of Sinai, namely Turiel on the ostracon is unadulterated balderdash. Actually it seems to be some sort of a wine receipt, as fast as I can make out of it now. It is still an important ostracon, but nothing like what I had perhaps hoped it would be. The room in which the Ostrava were found has been a very difficult one to excavate. Except for some fragments of Period IV wall, the entire room is filled with a mass of debris, which the most careful scaling down failed to disentangle, till we got to the level of the large zir with the Minaean letter, and the other pottery with it, – which seems to be a level of IIIA. Below it is a very heavy burning of II, the roof beams and covering palm branches and leaves of which have left a thick, and clearly mark roof burning. Owing to the large size of the room, its central location, the presence of an unusual amount of pottery, and what appears to be a acred stele, I still think aside from the fact that the ostraca do not seem to have any sacred significance, that this large room of Number 50 may well have been a sanctuary. We have thus far elsewhere in the tell
April 30 (cont.)
Found no figurines of the types discovered so frequently in other excavations, and some of which I have found on the surface during the course of the TJ survey, but we have found enough fragments of such figurines, all of them with old breaks, to indicate that they were once used. There were apparently both figurines of deities and of animals. Last year, we found a small camel figurine.
The job of disentangling the walls in the deepest rooms continues, made all the more difficult that we have neither the funds, the time, nor sufficient staff to supervise pulling down the upper walls and getting to the proper exposing of the lower levels. We are finding, however, that in the middle of the highest part of the tell, going form east to west, there is the deep thick wall, which will probably turn out to belong to period I. It must not be considered as the south wall of the city of period I, because first of all there is no reason to believe that the builders of City I would have contented themselves with so little space for their in comparison to their successors, compared to when they built much better and with much more forethought and planning; and secondly, because we have traced a wall east of the east street, and near the bottom of the gradual slope of the tell, and another wall near the bottom of the south slope of the tell, – both of which seem to indicate that related walls go all around the city, – and we believe also that these walls may turn out to belong to Period I. They too will not give us the outermost circumference of the city, because quite evidently there was occupation beyond these walls, both on the east and south and north sides. It is to be doubted, however, whether we shall be able to trace any walls beyond them, because already along the outer sides of these walls, the depths of the walls have petered out to one brick thickness, and in some places even the one brick thickness is gone.
In room 42 today, at a depth of about 1.20m., measuring from the top of the east wall down, we found a small lance head of copper, which will belong to one of the two phases of III. It is important, because it is one of the few copper pieces in this level found more or less completely intact.
One of the most interesting finds made yesterday, was that of a large pottery funnel in the north half of Room 49 A, along with some fine pottery, and several horn handle pots, in addition to numerous fragments of zirs and other pottery. This is the only well preserved funnel that I know of, and in fact is the only one that I know of at the present time. Others must have been found in other excavations. That such a funnel should be found in Tell el-Khaleifeh, at a level which is either IIIA or II (we have not yet leveled in this room), is not surprising, because there seems to have been quite an extensive production of some type of liquid, which required settling cups and bowls and basins of all kinds. We have found considerable numbers of such cups and bowls, pierced with once or more rows of holes, for evidently the obvious purpose of allowing some liquid to settle and then to pour out, through the holes. One can imagine that such a liquid was when produced in large enough quantities poured out through such a funnel as we discovered yesterday into jars large and small, and then sealed with the clay stoppers we have found, of sizes indicating just such large and small jars, which when filled with some valuable liquid, were then tightly sealed. What this liquid was is rather difficult to imagine at the present time, unless it was some major or by-product of the date palm.
—May—
May 6
We have really made much progress since I last wrote any notes. During the previous season of excavations, and during the first part of the present season, we had thought that perhaps this small town, which could be placed in a large sized courtyard, almost, was an open, unwalled site, without any protection whatsoever. We were led to this belief partly by the wrong analogy of modern conditions, which leaves Aqabah off of almost all the tracks of human intercourse, although we were aware of the former importance of Ezion-Geber; we thought perhaps, that, nevertheless, it may have been an unwalled sea-port and factory town. The other consideration was that we had carried the excavations already last year to what was apparently almost the easternmost part of the tell, near the bottom of its gentle slop, and found only a street, built on the debris and burning of II, and belonging therefore to III, as does most of the visible ruins on the top part of the tell, – with the smelting plant and some I and II walls excepted. We continued, however, to probe eastward, and to our amazement and delight came, almost at the very bottom of the slope of the tell (where one could hardly have expected to find any excavatable rooms, to judge from our experience last year on the east side of the tell, where the walls of the rooms we opened up soon petered out,) to a very thick, deep, and well-built mud brick wall, which goes down below any previous levels we had taken, and which must be the outer wall for the City I. It is 2.50 to 3 metres thick in places, with an offset apparently near each of the corners, giving extra strength to the wall. This offset, found near the south end of the east side of the wall, may have been a forerunner of the rectangular and square towers, which later on were used to strengthen the corners of outer city walls. In the very offset on the south wall near its east end, a fairly modern burial had been inserted, partly destroying the corner of the offset, but fortunately not destroying it completely. The discovery of this outer I wall, has brought a host of new problems with it. First of all, we have found beyond it on both the east and south sides, another, much thinner, and independent wall, which does not go down near as deeply as the I wall in back of it towards the town proper. In addition, on both sides of the I wall, we have had consistently to break through a flooring consisting of from two to four rows of bricks, extending between the east III street, for example, and the I wall, and continuing almost all the way to the outermost thin wall, beyond the I wall. In as much, however, as in places on the east side, beyond the east side of wall I, and underneath the brick flooring which extends beyond it to the thin, eastern wall beyond wall I, there is a burning, I feel, that this outermost east wall belongs to II, as does the flooring between it and wall I, and which flooring also extends over wall I, and goes inward towards the east III street. Continuing along the south wall of I, going eastward in stages, we came to what be now we had been anxiously looking for, – the main gateway of the city. We did not dig up the entire length of the wall, but by lining along the length of the wall, were able to dig down in spaced stages and each time find the wall. In this we were aided by the regularity of the plan of the wall of I, which the original builders had carried through, and by the perspicacity of out architect, Mr. Pinkerfeld. The main gateway is near the southwest corner of the tell. Thus far it shows itself to have three doors, and we have farther yet to go. On the east side of the gateway is a large, guard's room, where the foundation ledges of the walls on either side of the room can be most clearly seen. On the west side, there seems to be the possibility of a large courtyard-like room.
The entrances to the east and west rooms on either side of the first door of the gateway as one comes in from the south were blocked, respectively, by a wall of about five rows of bricks, containing, and in part built on very large stones, which could not possibly in either instance have belonged to the rooms of I, but both of which blocking walls must belong to II. I consider this further proof that the brick-flooring I have mentioned above may belong to II. The continuation of the south I wall to the west could not be followed, because the walls peters out. It may be, that the wall was broken through at this point, and that we can pick up the wall beond what may be the break caused by the invading forces of II, which destroyed I, and rebuilt it in a rather strong fashion. I think, furthermore, that when we take the levels of the I wall, and the I gateway, we shall find that the wall follows the natural contours of the tiny hillock on which the I city was built, and that namely, there was a sort of a hollow through the middle of the town, reflected in the deepening of the I wall about the middle of its south side. The gateway was built on a higher point that other parts of the south wall. Last season, and this season, I have been viewing with much resentment and disgust a trench which someone dug illegally near the southwest corner of our tell, running from south to north. I felt, that whenever we arrived at that particular point of the excavations, we would find a whole series of walls smashed through by the person or persons, who dug the long and fairly deep trench. However, it seems that the wicked are not always rewarded with positive results. It turns out, from our point of view, that the illegal excavator, who must have been looking for concrete results, if not finds, could not possibly have chosen a better place to do his attempted robbing in. He dug a trench, namely, along the length of what now turns out to be the middle of the street leading past the extensions for the three doors and apparently straight into town. If he had dug a little to the east or a little to the west, he would have hit the mud brick walls of the gateway, and of the door extensions, and would have done serious damage. As it is, all that the robber got for his pains was a surface trench in debris, most of it sand, which filled the entire street of the gateway as far as he has traced it. He may have made several finds of small objects, although there were not many in the debris of the gateway, but otherwise he helped us by having removed a certain amount of debris which we didn't have to move. It was really extraordinarily lucky for us that the robber trench was dug where it was and no place else.
It turns out thus, that city I was certainly not only not an open unfortified town, but that it was one of the most strongly fortified sites thus far discovered in the history of Palestinian excavation, with a strong gateway which can compare favorably with any thus far known in Palestine, and with an outer wall, which is, I believe, unique, in the history of Palestinian excavation both for its general excellence, and its fine state of preservation. The place is so well planned and constructed in Period I, that the whole site must have been worked out so speak almost on blue-prints, or their equivalent, before the building operations began. We still believe that the site was constructed primarily with the view to the large smelting and refining plant, and that primarily the entire place was given over to the preparation and manufacturing of, respectively, wok able iron and copper ingots and then turning them into finished metal articles. We have not in Period I so much a fortified town or village, so much as we have a very strongly fortified factory site to deal with. The strength of the walls, the size and magnificence of the gateway, the importance of the refinery, the strategic location off the site, the intensive production of all kinds of articles carried on inside its walls, give an even greater significance to Ezion-Geber: Elath than we had previously accorded to it.
A fine marked stone weight was found near the surface while trenching along the east side of wall I. It probably belongs to Pd. II. We had previously found a fine metal weight, in another place, of much the same general shape, although larger and heavier.
In room 85, which is against the south wall of I, we have found two very large, somewhat broken zirs, which at the time of writing I have still left in position. They are sunk into and below the floor level, and probably belong to level II. There is in this room a thin partition wall, and against the northwest corner of this partition wall, that is in the south half of the room, is a particular, rounded, hard beaten clay hearth (?), or kneeding trough, or something like it.
We have had terrific hamsin weather during the last three days. It was 97 degrees Fahrenheit in the shade yesterday. Glidden has 38.1 fever this morning and had some diarrhea yesterday. I have a me [?] today. Thank goodness, it is Friday and we are not working.
In room 85, against the middle of the south wall of I, are two large zirs of the Ali Baba tyce, much similar in appearance to the one we found in room 50, with the Minaean (?) letter on it [sic].
On the whole, I feel that we have already been well repayed for coming down here in spite of all the difficulties that beset. We seem literally to have passed through hell, fire, and water to get here, but the discoveries already made, are alone sufficient to justify our coming here.
May 9
Two days ago we finished with a three day hamsin, which knocked almost all of us out with stomach trouble. In as much as it also affected the natives, we need not feel to badly about it. Since then the wind had been very strong, with fierce sandstorms on the tell particularly from about ten in the morning on. And now the heat is really beginning. From about 11 A.M. to 3 P.M. one can literally feel the heat waves. When we came home at noon time, we pour four or five cups of water and tea down our system without any effort whatsoever. When we come home in the afternoon, we drink as many again, and so it goes the rest of the day.
We are beginning to pack, because I have decided to close camp and leave for Amman on Saturday, hoping to arrive in Jerusalem on Sunday. We have been working without about forty men during the last ten days, working intensively on the walls and the southwest gate. It is a pleasure to report that we definitely have the S.W. Gate, have worked out its plan in both of its periods, and also have the west wall in addition to the south and east walls, and also have part of the northeast corner of wall I. It will be impossible, however, this season to work out the wall of I period on the north side, where there are particular difficulties, and where we shall have to proceed very carefully and slowly, if we are able to proceed at all. It is really amazing, that there should be a gate of the size of the southwest gate in periods I and II, – both walls and gate systems being easily strong and large and complex enough to have served a place like Megiddo, – in a place of this size, which is hardly larger than a good sized acre or two. Imagine a site with walls 2.50-3 m. thick, about 8-10 m. high, a gateway corresponding to it, enclosing within the walls an elaborate smelting and refining plant, numerous rooms given over to manufacturing of various kinds, and you have an idea of he nature of this site. Guy reminded me when he was here with the Lowdermilk party Saturday night and Sunday morning, (there were nine altogether in the part), that there is a somewhat similar small walled site in the neighborhood of Tell el-Amarna. He also tells me that the small copper lance heads can be dated to about the sixth-seventh century B.C. from finds he has made in Mesopotamia. I must ask him for more details.
A truck is going to Maan tomorrow, and we are shipping most of our pottery and camp equipment with it. Khalil is going with the truck to see that it gets put into the train-shed, weighed, and consigned to Amman.
I worked with only six men today, and will use a like number tomorrow after which we shall quit. Only Pinkerfeld and I will continue till Friday with planning and levelling.
May 12
We finished off the last bit of work today, having already let the rest of the workmen go yesterday. During the three previous days we had been employing only nine men. All the workmen were finally paid today. We expect to leave tomorrow morning early for Amman.
The most important discovery during the last few days is that of flues the south wall of Pd. I going through the middle of the tell, and from the south side of Rooms 49A (north half), and of Room 49. Details with the regard to these flues to be found in my field-book. We learn thus the flue system was not limited to the smelting plant but tended to anew on virgin soil, probably by Solomon.
May 14
We arrived Sunday afternoon after a rough two-day trip from Aqabah. On Saturday morning about 2.30 we got up and started to pack. I ahd previously sent a truck-ful of luggage to Maan under Khalil's care to be out on the train which left Friday for Amman. About 4.30 on Saturday morning we were packed, and by 4.45 we were off, the Dodge heavily overloaded. We mde good time to Maan, where we picked up Khalil. From there on, However, we had sporadic trouble. Ylias, in one of his sudden fits of madness which overcame him, suddenly struck off east of the railway track behind the Hotel Petra in Maan. I could not follow with my heavy car and took the normal road through the village towards Jurf ed-Derawish. I assumed that Ylias would circle the town somewhere or other, and meet us on the main road outside the village. We did not find him, however, and I continued on to Jurf ed-Derawish full of anxiety. I knew there was no truck east of the railway line except the one leading to Fort Jaafer and Bayir Wells. When I got to Jurf ed-Derawish I phoned back to Maan, and found that Ylias had finally turned back to Maan and to my great relief was following us on the right road. We reached Amman about 7 p.m., the last couple of hours furnishing very difficult driving. The brakes of the overloaded Dodge had broken, and it was hard to drive it. Near the entrance to Amman, the little Willis stuck in the stream that has to be forded on entering the town, and we had to push it in with the larger car throughout the length of the town to the Hotel Philadelphia. We spent the night at the hotel. Sunday morning we got a truck and brought the luggage from the station to the Museum, where the antiquities have to be deposited until we can get a permit to transport them to Palestine. We left Amman at 2 p.m. and got to Jerusalem about 6 p.m.
Pinkerfeld and I worked up till about 5 o'clock Friday afternoon on the tell, and by no means exhausted what we could still have done. However, we did come to a fairly complete recording of everything we had done, in addition to measuring bricks and walls opened last year. We had to stop following the northward continuation of the west wall at a point where it seemed to make a west turn, and where there were a number of small rooms some of which may have belonged to period I, but may obviously have been reoccupied in Period II. These rooms and this west angle in the west wall may indicate the presence of a tower guarding the refinery just near by. However, the answer to this problem, as well as the working out of the city on the north side of the Town, must be left to a third season of excavations. Similarly, we must wait until another campaign of work can take place before attempting to find out what the rooms immediately behind the gateway contained. They may well be the most interesting rooms on the tell.
May 14
Returned to Jerusalem from Amman, with Dodge and Wyllis, and Ylias, Gliddens, Pinkerfeld, Herschel, Khalil, Atarah and myself. Traveled from Aqabah to Jerusalem in hamseri.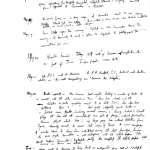 May 15
Recovered from a 2 day siege of diarrhea. Went to see Harry Iliffe. Thank God, he is better. Jews rioted in Zion Circus. One British constable killed; 120 Jews injured in baton charges.
Saw Iliffe again this morning. Called on our commander Harris this evening, and promised to send a plane to Aqabah to photograph the excavations for me.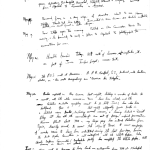 May 21
Horrible hamseri [?] today. All sorts of rumors of strikes, etc. on part of Jews. Tempers frayed, nerves taut.
Newsletter No. 8.
We returned to Jerusalem late Sunday afternoon, May 14th, safe and sound, although a bit weary. We had left Aqabah very early Saturday morning, having previously sent a truckful of luggage and the baskets of pottery and other antiquities to Maan to be shipped to Amman by train. It was a grey and hot and stifling day, the beginning of a hamsin period, and it seems that the hamsin weather has followed us to Jerusalem, where we have been experiencing it almost continuously since our return here. We reached Amman Saturday night at about 7 p.m., it having been necessary to drive the overloaded Dodge station-wagon during the last two hours without any brakes. At the very entrance to Amman, the willys stuck in the stream that has to be forded at the entrance of the town to the Hotel Philadelphia. The next morning both cars had to be fixed before we could move on to Jerusalem, and our freight had to be brought from the station to the Museum. The antiquities have to be deposited there until we can get a permit to transport them to Jerusalem. I had written in a month ahead for the permit, but it was more or less a mechanical gesture on my part, because I was pretty sure nothing would be done about it until I arrived on the scene and jostled the Arab Director of Antiquities a bit. Unfortunately I was right, nothing had been done. The British Chief Inspector of Antiquities, Mr. Hardin, has been away in England for six months, and I shall be happy when he returns at the end of this month. I call on Major Glubb Sunday morning to thank him for the assistance he had rendered to our expedition. Both his house and his office are always surrounded by swarms of Bedu police and soldiers, who hover around him like the flies that are described as attending the sacrificial means partaken of by the hungry gods. His Bedu force is a picturesque and very capable one, and with comparatively small numbers Glubb controls the desert fringes. I also tried to get in touch with Mr. Kirkbride, the British Resident, but he was busy having a conference with Emir Abdallah. However, just before we were leaving Amman for Jerusalem, Mr. Kirkbride phoned me, and I was able to express our thanks to him for his extreme helpfulness and his deep interest in our work, and also at the same time to ask him if we could not have an airplane sent down to Tell el-Khaleifeh to photograph our excavations also this season from the air. I think there is a good chance of procuring these air-photographs. I also made an appointment with Mr. Kirkbride to call on him when I return perhaps next week to Amman to try and get out antiquities over to Jerusalem. We left Amman Sunday afternoon at about 2.30 p.m., and arrived in Hersaken at aviyt 6 p.m. The eat was rather extreme as we passed through the Jordan valley, and the station wagon baulked somewhat but we nursed it along, and when it got to the top of the hill by the inn of the Good Samaritan, it began to function again properly.
It is frankly rather painful these days to reenter Palestine. One forgets after a sojourn in Transjordan that when travelling in Palestine, an assassin's bullet may be coming from behind every turn. In this respect our stay in Aqabah was idyllic. The peaceful, stagnating, mudbrick village, nestling below the slope of the hills overlooking the northeast side of the Gulf of Agabah is in normal times very remote from the world of hurried affairs, and now seems even more so. Plunged into the work of excavation, with its myriad details and its wearing physical demands, we almost forgot the wilderness of civilization that we had left behind us in Palestine, – that is, we forgot it till the first mail and the first newspapers reached us, about twelve days after our arrival in Aqabah. There was hardly a whisper of the Palestine turmoil or the European chaos that reached as far as Aqabah. Our advent there was hailed with joy by the people of the village, because it meant practically the only actual money paid in wages for employment that they had seen in many a month. The police-officer was perhaps a bit more officious than he might have been, and tried unsuccessfully to dictate whom I should employ, and how I should rotate the labourers. During the first few days, there came a long stream of letters from him, instructing me to employ the bearers of the letters. I accepted the first couple of men that way, and then had a conversation with the police-officer, indicating to him that I preferred to use my own methods in employing and firing labourers. The letters of introduction continued to stream in nevertheless. I let it be known therefore, that if any more letters came, I would open them very carefully, copy down the names of the people recommended, and swore by my beard that I would most certainly give those people no employment. The letters stopped, and that represents the total sum of disturbances in Aqabah. However, we soon readjusted ourselves to the manner of life in Palestine. One forgets very soon that there is anything very abnormal about it. It is always nice to get back to Jerusalem. The soldiers guarding the barricade blocking the entrance to Jerusalem from the Jericho road recognized us and waved us past without stopping to examine our travel permits. A few minutes later we were in the School. The garden was a riot of colours, the flowers being unusually beautiful this year as a result of the late rains. All was well at the School and I was glad to see my family again who are also now back at the School.
Mrs. Florence B. Lovell, Associate Professor of the Department of Religion at Vassar, and Dr. W.C. Lowdermilk, Chief of Research, Soil Conservation Service, U.S. Department of Agriculture, Mrs. Lowdermilk, their daughter Wester, their niece, Miss Elizabeth Moody, and Dr. Lowdermilk's secretary, Mr. Macknight, were all at the School. They, and Mr. and Mrs. P.L.O Guy and her sister had visited us at the Aqabah, and returned safely via Quseimeh and Beersheba. Everyone else at the School was all right. Professor and Mrs. George Dahl of the Yale Divinity School, who had stayed at the School from March 16th to April 10th departed shortly after we left for Transjordan. It was a great pleasure to have had them at the School. Mrs. Glueck and I had given a large tea for them, in order that they might meet some of the people in Jerusalem whom we thought they might like to meet.
My first concern after arriving in Jerusalem and seeing that all was well at the School, was to call at the Government Hospital and inquire about Mr. Iliffe. I had been kept informed about his progress while in and to my delight he said I could go right in to Mr. Iliffe's room, and that it would do him good to hear about Aqabah. It was a great relief to see him very much better. He is far from well, but at least he has climbed up the slope and there is no danger of his falling backwards into the valley of death. He looked terrible when I last saw him, and has greatly improved in appearance since. The results of the second season of excavations will be published as soon as possible in the Bulletin.
With the announcement of the contents of the so-called White Paper on Wednesday, May 17th, the situation in Palesitine has taken on an added degree of tenseness. There have been demonstrations, mostly peaceful, some rioting, one death, and many broken heads. Where it will all end, no one know. All that we at the School can do and that we most emphatically will do, is to tend to our business, shun political discussions, and avoid sections of the city where it is known that troubles are occurring or may take place. I note with dismay how frayed people's tempers seem to be, and how taut in general their facial expressions are. The mean hamsin weather we are still experiencing in Jerusalem does nothing to assauge the turbid spirits.
I am appending a copy of my diary of April 10th, which completes the story of our trip from Jerusalem to Aqabah, described as far as Maan in newsletter No.7.
[repeat of News-Letter No.7 dated April 10]
We left Maan at 6 A.M. yesterday morning, looking like a real expedition. The military truck led, manned by four men and a corporal in charge, and mounting an imposing machine gun, led the way. Behind it, were the Willys, the Dodge, and a Chevrolet truck with our food boxes and camping equipment. It is lucky that we had the military truck with us, and it is lucky for the military truck that we were along. The ride from Maan to the edge of the Jebel Shera was as beautiful as ever, or rather more so. The sky had the clear, clean, washed effect that comes after a strong storm, and the view over the Wadi Hismeh far below the top of the plateau is simply too wonderful to describe. Even the Wadi Hismeh had become carpeted for a short while with a covering of green, from which the isolated, in some instances multicolored, sandstone hills thrust themselves upward like stalwart giants. At the bottom of the roadway spiraling steeply down the Neqb Ishtar to the Wadi Hismeh, all of the cars got into trouble. The three private cars stuck in the sand, and when the military car tried to around to help us, it stuck too. Finally, we all got out, with the dint of much shoveling and pushing, and were happily on our way again. Then, when we thought all our troubles were over, and we were only about fifteen kilometres from Aqabah, the military truck broke down so completely, that it could not be repaired. My chauffeur, Ylias, was the only one who seemed to know anything about the mechanisms of the insides of the left front wheel, which had broken away from the axle, and after he had spent about an hour tinkering about with, he, in company with the other chauffeurs, decided that new parts would have to be brought from Maan or Amman. We took two of the soldiers with us to Aqabah, to send a wireless message to Maan, and then Ylias drove them back to their car. I forgot to mention, that when we passed Quweirah, we saw that some changes had taken place there in view of the conditions prevailing in Palestine, and threatening Transjordan. The police-post there has been surrounded by a barbed wire entanglement, and a wireless post has been established there. Similar changes have been effected in Aqabah. The police post has been moved from its pleasant situation on the shore of the gulf, to a high point outside the town, from which all the approaches to the town can be commanded. It too, has been surrounded by a barbed wire entanglement. It has always had a wireless station there.
I called on the Officer Commanding the post, Abdul Karim Bey, and gave him the letter from Major Glubb, which Glubb had given me to bring to him. Our house had already been picked out. It is almost next door to the police-post, and is not exactly expensive. It is to cost 35 piastres a month, that is, about $1.50. I examined it, found it quite satisfactory, particularly in as much as there was no other house available, and found only that certain essential sanitary arrangements were lacking. By getting a gang of men immediately to work, I had everything in order by nightfall. We went out to examine our last year's excavations at Tel el-Khaleifeh, and found to our delight, that nothing had been damaged, and that even our wooden pages left to mark the five meter squares we laid out next year, we almost all in place [sic].
Early this morning we began to work with a gang of about twenty men. In view of the advanced stage of the season, I do not think that we will be able to open many new rooms this season. Our main purpose will be to complete the section that we opened up last year.
May 25.
The P.O.S. met at Museum. R.P.R. Koeppel, S.J., lectured, with lantern slides, on "Die erste Ausgraburig em "Oreime bei Tabgha."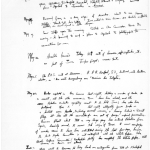 May 30.
Bombs exploded in Rex Cinema last night, killing a number of Arabs. As a result, all the other cinemas in town have been closed, and the Palestine Orchestra Symphony event to be held. June 1, has also been postponed. Near K [empty space] last night, allegedly Jews broke in and killed some Arabs, including several women, and leaving behind a Zionist flag. It has all the earmarks of an act of foreign inspired provocation. Rumors float about that a very large new gang has entered Palestine from Syria, heavily armed, to renew the reign of terror. A new campaign of murder seems to have been instituted during the last few days, because the Arab High Committee is not satisfied with the White Paper. The Arab Defense Committee (Nashashibi party) has accepted the White Paper. All cinemas in town are closed.
May 25
The P.O.S. met at Museum. R.P.R. Koeppel, S.J., lectured, with lantern slides, on "Die erste Ausgraburig em "Oreime bei Tabgha."
May 30
Bombs exploded in Rex Cinema last night, killing a number of Arabs. As a result, all the other cinemas in town have been closed, and the Palestine Orchestra Symphony event to be held. June 1, has also been postponed. Near K [empty space] last night, allegedly Jews broke in and killed some Arabs, including several women, and leaving behind a Zionist flag. It has all the earmarks of an act of foreign inspired provocation. Rumors float about that a very large new gang has entered Palestine from Syria, heavily armed, to renew the reign of terror. A new campaign of murder seems to have been instituted during the last few days, because the Arab High Committee is not satisfied with the White Paper. The Arab Defense Committee (Nashashibi party) has accepted the White Paper. All cinemas in town are closed.
—June—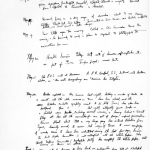 June 1
Ylias went to Amman to bring back our antiquities from Tell el-Khaleifeh.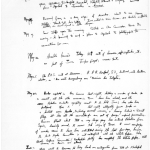 June 2
Machine-gun firing audible in distance. Bomb went off at Jaffa gate this morning, according to the servants. Bomb in telephone cable man-hole has put half of Jerusalem phones out of commission.
June 7
The ban on Jewish buses, improved about a week ago, was lifted this morning. The cinemas and cafes are still closed. The ban was improved so a result of the bombing of the Rex Cinema and the bombing of the man-hole , However, I just hear an Arab was killed near Meah Shearim this morning, and the military authorities will probably impose some sort of collective punishment again.
The king's birthday reception by H.E. is Tomorrow. If I can again borrow a cut-away, I shall attend, as representation of the American School.
The city is taut with excitement. An exhaust-explosion of a motor car on Jaffa road the other day, had every one running for cover, fearing that it was a bomb.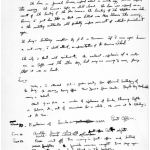 June 8
Helen and I attended H.E.'s garden-party for official birthday of the king. A cheery, loving affair. Four Jews and four Arabs. Rageh Bey Nashashibi wearing a tarbush.
About 9:40 P.M. a number of explosions of bombs, throwing lights in Rahavia, etc. out of Commission for a while. We were at Dr. Klasberg's [?] at the time.


June 10
Explosions of bombs near Post Office.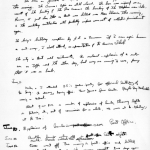 June 11
Another bomb when off in post-office last night. Keith-Roach called this afternoon.
June 12
One went off this morning in post-office and killed some people. A Jewish woman caught two days ago trying to get a bomb placed in the prison.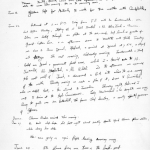 June 15
Dinner for the Lowdermilks. Other guests were Wadsworth, Barbours, and Miners. Keith-Roach came over this afternoon, to apologize for not being able to come this evening. He is to remarry soon.
June 16
Gliddens left for Antioch to work for two months with Campbell.
June 22
Returned at 3:00 P.M. today from T.J. with Dr. Lowdermilk. We had left on Monday, stopping off at Tell Mustah and Kh. Abreh Tineh and Amman. There we looked through the air photos at the air-camp, had lunch as guests of group Captain Lowe, and in afternoon drove to Meshetta with Head. Tuesday we drove to Umm Jemal, Mafrek, and arrived at Jerash at 7 P.M., and stayed with Harding. The next morning, Wednesday morning, Lowdermilk and Head looked over Jerash and government forest areas, while I and Hamid rode to Kh. Shawahid, Kh. Meshbetah, and Kh. Kibdeh. In the afternoon we examined the east wall of Jerash, and discovered a B.A. site above the northeastern corner of the wall. Thursday morning we made a plan of it, drove to Suweileh, where we dropped Head, and then returned to Jerusalem. Lady Macmichael and her daughter were away. Among the guests were Mr. Battershill, the former Chief Secretary, and newly appointed governor of Cyprus.

June 26
Eleanor Bisbee arrived this morning.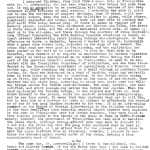 June 26 – Jerusalem
News-Letter No. 9 [printed document]
I returned Thursday, June 22nd from a short trip in Transjordan with Dr. W Lowdermilk, who has been staying at the School for some time now. It was an education to be travelling with him, because of his deep interest in and knowledge of the problems of soil erosion. I naturally was able to point out to him the existence of ancient terraces, some of which, still comparatively intact, keep the soil on the hillsides in place, while others, completely neglected and broken down, have not been able to prevent the good earth from being washed away. En route to Amman we stopped off at several places, including Tell el-Mustah and Khirbet Abu Tineh, the first an Early Bronze site, and the other a mediaeval Arabic site. At Amman we went up to the air-camp, and there through the courtesy of Group Captainer Lowe, Officer Commanding the 14th Bombing Squadron stationed at Amman, we spent several interesting hours looking through air-photographs. In the afternoon we drove to Meshetta, because I wanted to show Dr. Lowdermilk what a great site looked like, situated on the edge of the desert. The crops this year are very good in Transjordan, and the cultivation has been pushed as far east as is possible. We took Mr. Head with us to Meshetta, whom readers of my reports on explorations in Eastern Palestine may recall as having accompanied me on numerous trips during the first part of the American School's survey in Transjordan. He used to be connected with the Transjordan Department of Agriculture and Forests. Several months ago, while spending the night in a small village in northern Transjordan, Mr. Head was kidnapped by a band of bandits, which had evidently come in from Syria on its way to Palestine. He was rather badly beaten up at first, but suffered no other harm at the hands of his captors. They marched him all night long, intending to cross into Syria over the railway bridge across the Yarmuk near el-Hammeh. The army, However, had been notified, and every passage-way across the Yarmuk was guarded. When the band approached the railway bridge, it was sighted and fired on. Head threw himself to the ground, while his captors retreated precipitously, and he was thus saved. It seems that they captured Head not to kill him, but to keep him as a hostage in order to attempt to effectuate the surrender of one of the gang leaders captured by the army. It is an interesting comment on the degree of foreign intervention in the troubled situation in the Near East to note that when recently several bandit leaders were captured by the army in Transjordan near the Syrian boundary, they were ound to have sheques payable to the bearer on the Banco di Roma in Jaffa. Fortunately, however, the government of Transjordan has been able to maintain the peace there, although strong efforts have been made to disturb it. I was told the other day that the gang which captured Head is back in the Ajlun district, so I am afraid that for the present I shall have to omit the Ajlun district from my itinerary. However, I propose to continue the archaeological survey north of the Zerqa, keeping a line approximately east of Jerash.
The next day, Dr. Lowdermilk, Mr. Head and I drove to Umm el-Jemal, via Zerqa and Khirbet Semra. It was the first time that I had been to Khirbet Semra and Umm el-Jemal, both of which are extremely interesting places. Umm el-Jemal is an astonishing place, and in many ways is, in a much different fashion, perhaps even more striking than Petra. From Umm el-Jemal we drove to Mafrak, where I re-examined the ruins of the massive structure there which I had looked at previously in 1932. It is difficult to decide whether it is a Roman or an Early Iron Age site, but it certainly does not precede Early Iron. On the whole, the massive building blocks in it are somewhat similar to those in the great Early Iron Age sites found, for instance, in the Beqah valley on the way from Suweileh to Jerash. From Mafrakwe drove to Jerash, where we spent that night and the following night as the guests of Mr. Harding, the Chief Curator of the Transjordan Department of Antiquities. The next morning, Dr. Lowdermilk and Mr. Head went off to see the forest reserve are in Jerash, while one of Mr. Harding's staff and I got on horses and went exploring for antiquity sites. I shall mention here only the most important that we found that morning. A few kilometres north-east of Jerash, on top of a high isolated hill commanding a clear view of Jerash, we found a very large, strongly fortified Early Iron Age site, called Khirbet Kibd. Whether or not this place is to be identified with the Early Iron Age equivalent of Jerash, I am not prepared to say. In addition to a large cistern within the wall enclosure on top of the hill, there is a strong spring immediately below it called Ain Shawahid. We climbed up the east side of the walls of Roman Jerash in ordr to show Dr. Lowdermilk how soil washed down from the hillsides above the east side of Jerash was now level with the top of the north-east and east walls. While walking on top the wall, I noticed a sherd which was undoubtedly to be dated to about 2000 B.C. Where there was one sherd, there had to be more. The search immediately began. On the slope of the hill, above the north-east corner of the Jerash Roman wall, we fond large numbers of indubitable EBIV-MBI sherds, and on a long and wide, completely isolated hilltop immediately above this slope, we found a tremendous walled early Bronze Age site. While some of the surrounding hillsides are completely eroded, the slopes of this hill are cultivated from the bottom to the top to this very day, because the terraces built in approximately 2200 B.C. still suffice to hold the fertile soil in place. Dr. Lowdermilk was naturally delighted, because it gave him an opportunity to take soil-samples from an ancient side, that date of which I could guarantee him. I was pleased because we had discovered the Early Bronze Age site which was the counterpart of Roman Jerash. As soon as possible, probably about the middle of July, I shall return to the Jerash region for an extended trip in continuation of the American School's archaeological survey. It is my hope this summer and early fall, and during part of next year, to continue and complete the American School's archaeological survey of Transjordan. The next day we returned safely to Jerusalem.
Dr. Lowdermilk and his family are leaving today for a month's stay in Syria, before continuing their journey to Europe. It has been a great pleasure to have them here. On June 15th, Mrs. Glueck and I gave a dinner for them, and had previously given a tea for them, to introduce them to some of the members of the Jerusalem public.
On June 8th, Mrs. Glueck and I, as representatives of the American Schools of Oriental Research, attended the reception given by H.E. the High Commisioner, Sir Harold MacMichael in the beautiful gardens of Government House on the occasion of the King's official birthday. One could write a commentary on the political situation in Palestine by the character of the attendance of the guests on that occasion. Although there were hundreds of guests, most of the Arabs and most of the Jewish
Representatives who usually attend these affairs were conspicuous by their absence as a result of their protest against the White Paper and the attitude of the government. There were a few Mufti-ites and a few Nashashibis present, the former group wearing kefiyehs and agals with their morning-dress suits, and the latter also wearing formal morning-dress, but reverting to the red tarbush which all city Arabs wore up till about a year ago. On the whole, the tenseness throughout the country has not abated. The White Paper has brought no peace with it. There is, however, more general public security than there has been for some time, despite the occasional bombings and shootings that are still indulged in.
By the first week-end of July the School will be emptier than it ever has been in my memory. Dr. and Mrs. Harold Glidden have gone to Antioch to join Mr. W.A. Campbell in charge of the excavations there. He telegraphed to me recently to find him one assistant or two who could help him in the work there. The Gliddens were on hand, had had experience with me during the excavations at Aqabah, and were delighted to have an opportunity for further work. It was a good opportunity for them and an excellent solution for Mr. Campbell. Dr. Fisher, instead of going to Cyprus for his vacation as he had planned, is taking Miss Carey's beautiful house at Ain Karim for the summer. Mrs. Glueck is leaving at the beginning of July with our baby, to visit our families in Cincinnati, and will return with me in December. There will remain here at the School then during the summer only Sir Flinders and Lady Petrie, Miss Wambold and myself, and I shall be in Transjordan at least half of each month up till October. Then I shall be leaving for the lecture-tour throughout the United States and part of Canada on behalf of the American Schools of Oriental Research.
Mrs. Glueck and I were at the High Commissioner's for dinner the other night. Sir Harold MacMichael seems to be keeping abreast of the progress of the American School's archaeological work, because in our conversation together he asked numerous questions about our recent excavations at Tell el-Khaleifeh. He had visited the site last year. Mr. Keith-Roach, the District Commissioner and the Governor of Jerusalem, has called several times recently. He is going off soon to get married again, his wife having died last year after years of severe illness. The government officials are not generally allowed to come to this district at night-time, but Mr. Keith-Roach lives near here, and as he himself gives the orders, he can break them occasionally. However, when he walks across the field at night time from Larssen's pension where he lives to our place, he is accompanied by two British detectives, who hold what looks to me like small cannons in their hands. In as much as some months ago a bomb was thrown in his yard, directed more or less at him, I guess it is necessary for him to take precautions. I do not believe that we at the School are in any more danger because we live in this quarter, despite the fact that the government has compelled all the English families in the vicinity to move out, than if we lived in almost any other place in town. As a matter of fact, I believe and hope that there is no danger whatsoever for us at the School. I say this to reassure the friends of the School who may be concerned about our welfare. I keep my ears close to the ground, and feel on the whole that the situation has improved slightly for the better.
Returning from the Transjordan the other day, I again visited Mr. Iliffe at the Government Hospital, and was delighted to find that he has been improving very rapidly. He has gained weight, and can now walk about unassisted. The victory for him is won; and that is one good man they did not get down.
June 27
An Arab shop keeper shot last night almost directly opposite Meah Shearim police-station, while closing his shop. War-scare going on again. People hoarding American money.
June 28
Ate plums from our trees in the back-yard. Harding called this afternoon.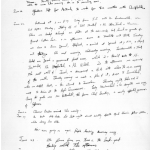 June 30
Bomb exploded in Arab café in Mamellah [?] road.
—July—
July 2
Left with Helen, the baby, and Eleanor Bisbee for Haifa.
July 3
Put Eleanor on taxi to Beirut, and Helen and baby on Excochorda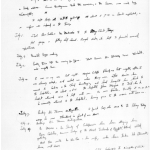 July 4
July 4th service at St. George's Cathedral. Mr. Alva L. Miller made a brief address. Canon Bridgeman took the service, and the lesson was read by Wadsworth. I left Haifa at 2 P.M. yesterday at about 5 P.M. a bomb exploded, and a curfew was imposed on the town.
July 5
I took Reverend Sadler and Dr. Medearis to the Rotary Club Today. Had garage and pottery shed cleaned. Enough dishes, etc. left to furnish several expeditions.
July 9
Herschel began working.
July 12
Lady Petrie left this morning for Cyprus. That leaves Sir Flinders, Miss Wambold, and myself here.
I was on my ear last night. Marjorie Iliffe phoned me last night, after I was already asleep, and asked me where Harry was. I had driven him around to Cook's and the Chief Secretary's and had brought him back to the hospital. At about 11 P.M. the hospital phoned Marjorie to tell her he hadn't returned since he left with me. We were frantic. Finally at 12:30 he casually returned to the hospital, having gone to the movies with some one.
July 17
Packing Kh. Tannur antiquities. A Jewish boy who came to the library says he was threatened in front of our door.
July 18.
Packing Kh. Tannur antiquities.
July 19
Dr. Monroe and Dr. Sandy of California have been staying here. Pierre Cabritis, American Judge of the Mixed Tribunals of Egypt (retired) called yesterday. Had tea with Dr. Van Ess and his wife, who have taken the Stewart's home next door.
July 20
American Pastor and his son, also a pastor, both belonging to Disciples of Christ kidnapped while returning from Mar Sala [?].
July 20
Lectured at Neuman School of Missions.

News-Letter No. 10. [printed document]
Conditions have become somewhat quieter recently in Palestine, in fact so much so that the government has permitted a battalion of soldiers to leave the country and go to Egypt. However, it is the intention of the government, I believe, to retain a permanent army in Palestine, not so much for local Palestinian needs as for general Imperial defense. The country is dotted with permanent and substantial army encampments sufficient, I believe, to house about 20.000 men. The lull in the disturbances which obtains at the present, however, is more apparent than real. If wholesale attacks have been considerably retrained it is hardly because there has been a lessening of tension, but rather a suppression of tension.
Recently it has been thought that with reliable Arab guides one could begin to permit tourists and students to go to such places as Solomon's pools and Bethlehem on donkey-back. Just a few days ago, I permitted two recent visitors of the School, the Rev. Dr. Kenneth M. Monroe, and the Rev. C. Sandy, of the Bible Institute, Los Angeles, to go to Solomon's pools on donkey-back, accompanied by a local guide, Farid Salman. Everything went well, and they returned quite happily and satisfied by the trip. Yesterday, two ministers of the Church of the Disciples of Christ, who have been staying at the Y.M.C.A., the Rev. Dr. Jacob H. Goldmer of Cleveland, Ohio, and his son, the Rev. Gerald R. Goldmer of Mogador, Ohio, accompanied by an Arab guide, left for Mar Saba on a donkey-back trip. They arrived there quite safely, were entertained to lunch, and then left in the early afternoon, On the way back they were held up by a party of armed men and detained. The guide tried to tell the bandits that they were Germans, because Nazi Germans are thought of well by the bands; the elder minister, however, sort of understood what the guide was saying, and insisted that he and his son were Americans. It made no special impression upon the bandits, who replied that they liked neither English nor Americans. Next morning the bandits and the ministers started out again, and after a long parley it was decided to retain the son and send the father back to Jerusalem with the guide, there to obtain a LP 1000 ransom for the son. Before the two started off another armed band came by, and an altercation ensued between the two bands until finally agreement between them was reached, probably a decision to divide the ransom whenever it was received. The father and guide finally arrived near Bethlehem, whence they were brought to Jerusalem. The American Consul General, Mr. George Wadsworth and others are setting wheels in motion to affect the release of the son Rev. Gerald R. Goldmer. As a result, I shall no longer permit residents at the School to go out donkey-back riding in the future. This will be hard on the members of the Summer School party from Wheaton College, Ill. which arrives today to stay at the School for a week. There are 15 in the party. I shall add a note later on in this letter, when I find out what has happened to the kidnapped minister.
We have been packing the Khirbet et-Tannur antiquities. A separate strong case has been made to order for almost everyone of the stones, and thus far about 45 cases have been packed, and there will be about 10 more. It seems to be doubtful whether there will be war this summer, but nevertheless, I want to get our share of the Khirbet et-Tannur antiquities to America before anything happens. The Palestine Archaeological Museum has set up its share of the Khirbet et-Tannur antiquities in a special room, and it makes a very nice display indeed. At the very entrance to the Museum they have set up the huge Atargatis relief with the side-pieces on which foliage and fruits are depicted. Our share will be no less attractive when it is finally set up. I shall ship the cases on the American Export Line, and they ought to arrive safely in America.
There has been a considerable number of people calling at the School recently, many of whom the Director has entertained to tea. Among them are: Fr. Sylvester Saller, O.F.M., Fr. Eustace J. Smith, O.F.M., Fr. Stephen J. Hartdegen, O.F.M., P. Pancratius Keilback, O.F.M., all of the Studium Biblicum Franciscanum, Jerusalem, Mr. Edward Keith-Roach, the District Commissioner, Mrs. Alice Mead Cleland, Amherst, Mass., Miss Karin Johnsson, Stockholm, Mr. and Mrs. William M. Green, University of California, Berkeley, Calif., Mr. Norvin Hein and Mr. William M. Ahrich, of Ewing Christian College, Allahabad, India, Mrs. Flora G. Richardson, Va. , Esther E. Johnson, American Junior College, Beirut, Miss Mary L. Wicher, Tripoli Girls' School, Tripoli, Syria, Dr. Kenneth M. Monroe, Biola, Los Angeles, Calif. Mr. Conard Sandy, Western Bible College, Los Angeles, Caif., Mr. and Mrs. George Keongh, Advent House, Jerusalem, Mr. Pierre Crabites, American Judge of the Mixed Tribunals of Egypt (Retired); Special Lecturer, Law School, Louisiana State University; Dr. B. Maisler, Pere H. Vincent, Pere R. de Vaux; Dr. Lex Picand.
Dr. VanEss and his wife, American missionaries at Basrah on the Persian Gulf, have taken the Stewarts' house next door to us. It is a pleasure again to have some American neighbours, they are remaining till the middle of September. Up to the time of their advent, the only other foreigners besides ourselves living in this quarter were Mr. and Mrs. Harold Minor. Mr. Minor is one of the consuls at the American Consulate General. All the British residents living in this quarter back of our property have been compelled by the government to move out, following the shooting of Mr. Iliffe. Mr. Iliffe, by the way, has recovered to such a degree, that he and his family were able to leave last Saturday for a long leave of absence in England.
Yesterday I lectured to the Summer School of the Newman School of Missions. Among the studnets is Miss Wicher, whose father was Annual Professor here during the year 1928-29. I shall give a series of lectures to the Summer School. Permission has not yet been received from the Transjordan government to continue the survey there.
July 23-25
Go to Amman this coming Tuesday or Wednesday in order to bring a last load of my camp equipment and the objects from the museum there and also to have an interview with Lenl [?] I am also taking Dr. Vanurn [?], the head of a missionary of Bosah with me. Of course, even if I can go on with the [?] work this summer, I have plenty to do at home to keep me busy, getting some of my [?] mats in shape. There are one or two requests in my last letters to you which Engberg did not answer and I shall look forward to hearing from you about them.
Helen and baby are in Cincinnati on the 25th I have made no mailing arrangement yet and I may leave on one of the Expo Boats either on the 11th or the 25th of September. The mailing date will depend on how much work I shall have gotten done and how tired I feel at the time. I was [?] to hear from Albright that the Explo IV [?] was to appear as a double [?] of the Admiral. I am very anxious to get the [?] finished I am now standing more or less before the goal and only need to do the [?] below the Wadi Zerqa and the Wadi Y-[?] in order to finish the work on that section should for the friend [?] Jerash that deals with the discovery
of an EB IV – MBI site in overlooking Jerash and an EI I-II site a few kilometres away from it. I shall be int. to receive a detailed schedule of the lecture tour. With best wishes for a pleasant summer. S–[?]
and regrets to attend the congress here of the necessarily of an unnamed different [?] for a lecture here in the US.
Dear Sir,
I am wondering if the art mentioned in your letter has appeared. N. tov [?], I should soon be receiving a copy.
Dear Ellis,
I wonder if you could give me an exact description where the EI site was which you found near Ami Sudeisal [?]. I do not mean the little fortress itself, but I refer to an extensive site which you once mentioned to me and on which you found a horrid number of EI shards.
My wife and the baby have are in Cincinnati and I expect to go to America in Oct. All of us return together in the [?] back in Jan.
Trusting that you are feeling well.
Sir. J
July 23
Dr. Fisher invited the Summer School to Airi Rerem [?] where he is spending the summer.
American pastor kidnapped near Mar Saba, not yet released by bandits. Helen and Charles Jonathan arrived at Boston at 8 A.M.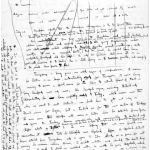 July 25
Newspaper reports that the American clergyman is to be freed this morning on the payment of 5000 dollars. The payment is being made in 10,000 two shilling pieces. Bandits both in the Near and Far East seem to have a penchant for pieces of silver. In a battle two days ago on the Beersheba road several British soldiers were killed and several wounded. Despite the lull which now prevails, it is still obviously impossible to resume normal travel. The young Englishman who was shot while walking the Musrara [?] quarter several months ago, died recently. It was a merciful death; he died in his sleep. Had he lived, he would have been completely paralyzed all his life! He and his fiancée had come out on a good-will mission to the Arabs. She is still living in the Musrara quarter, and carrying on the work. More power to her!
[The above entry was crossed out. The following is where his intended entry begins.]
Transjordan is being given an added degree of independence. A visum for Palestine is no longer automatically good for Transjordan, it now being necessary to receive a special visum for it. Thus the natural flow of travel is being hampered more and more. The Sandjak regime, including Antioch and Alexandretta, has been completely ceded to Turkey, which means now that when we want to visit Antioch, we shall have to get not only a French visum for Syria, but a Turkish one for the new section of Turkey. I am sure that Aleppo will sooner or later also be detached from Syria and given to Turkey, because geographically and commercially the Antioch and Aleppo districts go together. Thousands of Armenians and Arabs have fled the Sandjak, and this time Musa Dagh has been conquered by the stroke of a pen. I am hoping that we can finish our excavations at Tell el-Khaleifeh near Agabah, before the Agalesh district becomes detached from Transjordan and is given to Ibn Saud as a price for not exercising his nuisance-value. However, I doubt whether even should this desert king attempt, so to speak, to fish in muddied waters, he would be given Agabah, which has immense potential strategic and commercial importance. It is, I guess, a sign of the times, when archaeologists whose main energies must be devoted to extracting the history of ancient civilizations from the ruins in which most of them were buried by destructive wars, must make his plans around when the war which may soon break out, and destroy our present world order*.
*[off to the side] In this part of the world, particularly Transjordan, history will probably repeat itself in a pattern familiar from the past. The Bedu will again pitch their tents where villages and towns flourished, and fields were cultivated, and roam unhindered as the length and breadth of the land. And some future archaeologist will again record a break in the history of permanent sedentary occupation, casting this time from the tower from about the [cut-off entry] to about the 26th century A.D. He will ascribe the break to the self-destruction strength [cut-off entry].
July 25 (continued)
A book by Hans Rhotert called "Transjordanian" appeared recently. It deals mainly with the prehistoric site of Kilwa, discovered in 1932 by a joint expedition of the American School of Oriental Research, Jerusalem and the Transjordan Department of Antiquities. Unfortunately the author has obtruded into into some vicious political propaganda, which detracts considerably from the mainly scientific character of the book. It is a very handsome publication, but it appears that handsome publications cannot appear in a present-day Germany without sycophantic genuflections before the apothesized tribal chieftan. A review of the book by the writer of this news-letter will appear probably in the September number of the quarterly called Antiquity published in England. Other articles dealing with the work of the Jerusalem School will appear in the September issues of Asia and the Palestine Exploration Quarterly, and in the October issue of the Bulletin.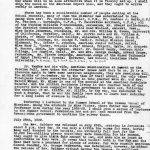 July 28  [Newsletter No. 10 (cont.)]
The Rev. Goldmer was released on July 25th, arriving in Jerusalem about 8 p.m. that day. He was only a little the worse for the wear, having been well treated by the bandits, who evidently felt that for the 10,000 two-shilling pieces which they were demanding for his ransom, they ought to give him a fair amount to eat, and make him at least as comfortable as they were. It seems that bandits both in the Far and the Near East have a penchant for pieces of silver. Our very capable American Consul General, Mr. George Wadsworth, was determined, however, to affect the release of Rev. Goldmer without paying the ransom. He mobilized the Arab public opinion in Jerusalem, and set wheels within wheels in motion to have a message sent from the former Mufti of Jerusalem who is now in the Lebanon, to the bandits that it was not advisable to kidnap American pastors, and that they should release the one they had in their hands. The message was delivered. A certain number of pounds of baksheesh was given to the intermediaries, and some of it probably got into the hands of the kidnappers, but it does not seem to have been any more than LP 100, and probably less.
On July 23rd, a battle took place on the Beersheba road between British troops and a well armed gang of bandits. It is not known what the casualties the gang suffered, but several of the British soldirs were killed, and several wounded. Despite the comparative quiet which exists throughout the country now, it is obviously impossible to resume normal travel to such places as Hebron and Beersheba. The young Englishman who was shot while walking in the Musrara quarter several months ago, died recently. It was a merciful death; he died in his sleep. Had he lived, he would have been completely paralyzed all his life. He and his fiancée came on a goodwill mission to the Arabs from the Peace Pledge Union. She still lives in the Musrara quarter and carries on the work; more power to her.
The Summer School arrived on July 21st, and stayed only till July 26th. Their stay was curtailed by the fact that the trains running from Lydda to Egypt go only twice a week now, on Wednesdays and Saturdays, and they had to leave on Wednesday in order to carry out a curtailed program in Egypt and catch their boat at Alexandria. However, they saw a great deal of Jerusalem while they were here, and also visited Bethlehem and the Dead Sea. There was only time for me to deliver one lecture to the Summer School. Dr. Free, the leader of the Institute and Mr.s Free are returning to the Schol at the beginning of October, to attend the regular sessions of the School throughout the coming academic year.
Transjordan is being given an added degree of independence. A visum for Palestine is no longer automatically good for Transjordan, it now being necessary to receive a special visum for it. Thus the natural flow of travel is being hampered more and more. The Sanjak region, including Antioch and Alexandretta, has been completely ceded to Turkey, which means now that when we want to visit Antioch, we shall have to get not only a French visum for Syria, but a Turkish one for this new section of Turkey. I am sure that Aleppo will sooner of later also be detached from Syria and given to Turkey, because geographically and commercially the Antioch and Aleppo districts go together. Thousands of Armenians and Arabs have fled the Sanjak, and this time Musa Dagh has been conquered by the stroke of a pen. I am hoping that we can finish our excavations at Tell el-Khaleifeh near Aqabah before the Aqabah district becomes detached from Transjordan and is given to Ibn Saud as a price for not exercising his nuisance value. However, I doubt whether even should the desert kind attempt, so to speak, to fish in the muddied waters, he would be given Aqabah, which has immense potential strategic and commercial importance. It is, I guess, a sign of the times, when the archeologists whose main energies must [correction atop] be devoted to extracting the history of ancient civilizations from the ruins in which most of them were buried by destructive wars, must make his plans with an eye upon the war which may soon break out and destroy our present world order. In this part of the world, particularly in Transjordan, history will probably repeat itself in a pattern familiar from the past. The Bedu will again pitch their tents where villages and towns flourished and fields were cultivated,
And will roam unhindered over the length and breadth of the land. And some future archaeologist will again record a break in the history of permanent sedentary occupation, lasting this time from about the end of the 20th to about the 26th century A.D. He will ascribe the break to the self-destructive strength and to the benighted stupidity of civilized man, but some other scholar will attribute it to a change in climatic factors.
A book by Hans Rhotert called "Transjordanien" appeared recently. It deals mainly with the prehistoric site of Kilwa, discovered in 1932 by a joint expedition of the American School of Oriental Research, Jerusalem, and the Transjordan Department of Antiquities. Unfortunately, the author has obtruded into it some vicious political propaganda, which detracts considerably from the mainly scientific character of the book. It is a very handsome publication, but it appears that handsome publications cannot appear in present-day Germany without sycophantic genuflections before the apotheosized tribal chieftain. A review of the book by the writer of this newsletter will appear probably in the September number of the quarterly called Antiquity published in England. Other articles dealing with the work of the Jerusalem School will appear in the September October issue of the Bulletin.
–
—August—
August 3
Left at 6 A.M. with Dr. Van Eos of Basrah, Iraq for Amman. We had lunch with Kirkbride and tea with Glubb.
August 4
Left Amman at about 6 A.M. arrived in Jerusalem at about 10:30 A.M. The bridge at kil. 17 on the Jericho road, which was completely blown up last week, is still ruined. A steep by-pass enables cars to circumvent it with difficulty. Arab traffic on Jericho road banned for about a week till this Saturday. Hold-up and murder on Ain Karim road yesterday. Will no longer visit Fisher without armed escort. Three days ago a band of 20 engaged troop on the Hebron road. Nine of the band were killed and rifles captured; no casualties among the soldiers.

Jerusalem, 18. 8. 39. 
News-Letter No. 11 [printed document]
I returned yesterday from Transjordan after an interesting week's work there in the Jerash region, continuing the archaeological survey. Mr. Kirkbride, the British Resident in Transjordan, with whom I had lunch during the previous week, had given me permission to resume work, but for the present limited me to the Jerash district. He made the further condition that I was not to sleep out as had been my wont wherever I happened to be at nightfall, but that I was to return every night to Jerahsh. In a way that was a hardship, but it had its definite advantages. After a hard day's work, which commences at about 5.30 a.m., riding up and down the steep Transjordan hills and climbing around the sides of antiquity sites, one is much inclined towards the end of the day to flop down and make camp wherever one happens to be. Instead of that, this time, no matter where the day's wanderings had finally brought me, I was compelled to return to Jerash. In some instances this meant over a two-hour horseback ride. However, I have never before experienced the pleasure of being able to clean up and have a bath every night during the course of the work of exploration. My host was Mr. Harding, the Chief Curator of Antiquities, who lives in a delightfully furnished house in the midst of the Jerash excavations. A shower, a good supper, and a decent bed to sleep in certainly make all the difference in the world. Despite the restrictions imposed by Mr. Kirkbride, which, I may say, I fully understand, particularly after the kidnapping of Mr. Head, I managed to cover a considerable area, and visited a number of very interesting and important sites. To my continued surprise, the hill-country of the Jerash district shows the same occupational history as the parts of Transjordan south of the Wadi Zerqa. The break between the end of the twentieth century and the beginning of the thirteenth century B.C. in the history of permanent sedentary occupation seems to exist also in this area.
It is symptomatic of the times that when I returned to the School yesterday, and met Sir Flinders Petrie in the hall, he greeted me with: "Well, I am glad to see you safely back." It is difficult for people who live in Palestine to understand that Transjordan, despite occasional disturbances there, is on the whole very quiet and peaceful. After having been absent from Transjordan for over a month, and listening to the protestations of my friends about returning there this time, I felt at moments that I was going almost to my certain doom. However, no sooner does one cross Allenby Bridge that the feeling of insecurity which rests heavily upon the traveller in Palestine, vanished. Some day something may happen to me in Transjordan, but that is something which might be said of almost any person anywhere. The probability, however, is that if I am killed, it will be with kindness. I was also in the Suf area this time adjacent t Jerash. It is a district which is famous for its grapes, and they are now ripe. All the Arabs live in their vineyards this time of the year, and the villages are more or less abandoned. At every step almost, we were invited to get off our horses and rest, and whenever we acceded to the invitation, were almost immediately presented with a huge platter of delicious grapes. I have never in my life eaten as many grapes in one week as I did in the week just gone by.
Naturally in work such as ours, the curiosity of the Arab has to be satisfied. It is after all a strange thing for the Arab to see a couple of men suddenly appearing at antiquity sites and beginning carefully to search the slopes and the tops of the mound and hill for sherds, measuring ruins and photographing extensively. We explain as much as possible, and only occasionally have to speak fairly roughly. This time, we climbed to the top of a high hill called Tell Huweishan. On the top of the hill there were several occupied houses. The headman of the little group resident there greeted us, and with a not uncommon display of friendliness, kissed me on both cheeks. His beard was very tough, and I thought I had been stung by a porcupine. On another occasion last year, I was out camping on a hilltop with my Arab companion, Ali Abu Ghosh. Tired, we got into our sleeping bags early, and were soon lost to the world. Some hours later, we were both suddenly awakened, and observed a circle composed of about twenty armed Arabs closing in on us. I admit I was quite frightened; and decided that if they were up to any harm, several of those nearest to me would suffer before they overpowered me. I happened to have a revolver with me which I had placed inside the sleeping bag. Ali challenged them, and I noticed that he held his rifle. Evidently, several people would have been hurt if we had been rushed. The men stopped, and in the ensuing conversation it was revealed that we were involved in a comedy which might have become serious. By not sleeping in a neighbouring tent-encampment, we had aroused the suspicions of the Arabs who had become convinved that we were up to no good business, and had decided, after evidently observing us before we went to sleep, that we were digging for treasure. We reassured them on that score, and they satisfied themselves by looking over the ground very carefully and seeing that we had dug no holes whatsoever. When asked why we had not come to their tent, I replied that I was fed up with being bitten to pieces by the bug that frequented the tents. Our questioners were somewhat insulted, but left convinced that we were all right, if just a bit queer. The next morning, to sort of make amends for our aloofness, we went to the encampment, and stopping at the main tent, had coffee and tea served to us. On the whole, however, our experiences have been pleasant ones. The other day, while driving along one of the Transjordan roads in our car, I picked up an old blind man, and put him down some kilometres farther on at the place he had been headed for. Arab speech is full of rounded phrases of the type already familiar from the Bible. As he got out of the car, he thanked me with the following blessing: "May Allah guard you wherever you go, and in whatever you do." I learned a new curse at our excavations at Tell el-Khaleifeh this year. One of the workmen got angry at another and yelled at him: "Sand in your eyes." A pleasant way of wishing him dead.
I found that the people in Transjordan were quite elated over the new degree of independence which has just been given to Transjordan. A whole ministry with fat emoluments has been conjured into existence. One of the new ministers comes from a village near Jerash and all the district is shining by reflected glory. I think the show of increased independence which England has granted Transjordan was a wise political move. For once, the British government has demonstrated that it does not always reward its enemies, but sometimes also deals kindly with its friends. I hope, and I imagine it is hoped in official circles, that the reward for good behavior so ostentatiously given in Trnasjordan will have its proper effect upon Palestine. So far as I could gather, the people of Transjordan prefer their present status to any possible combination either with Palestine or Syria or Iraq.
The disturbances still continue in Palestine, if indeed considerably checked. The morning's newspaper reports that all traffic in and out of Hebron has been banned for some time, because a British military patrol had been fired on, and a British Lance-Corporal had been killed. A bomb was thrown in one of the main streets of Jerusalem two nights ago, and 13 Jews were sent to hospital. However, the conditions are quiet enough on the whole for the High Commissioner to have deemed it possible to leave for England on a lengthy vacation.
All is well at the School. Dr. and Mrs. George G. Cameron of the Oriental Institute of the University of Chicago were here for several days en route from Persepolis to Europe before returning to America. Dr. Fisher, who has been spending the summer at Ain Karim is returning at the end of the month. I shall drive out there then to bring him back. The 65 cases with the Khirbet et-Tannur antiwuities have now been shipped to America, I am glad to say. They were very carefully packed boxes made to order for each stone, and were put on board the Excambion which left Haifa on August 14th. It is a grand collection, contiaining many objects and bas-reliefs of unique importance. I am planning at present to leave for America for the lecture-tour on the American Export Line boat Excalibur on September 11th. During my absence, Dr. Fisher will be in charge of the School.
August 15
Returned from Jerash this morning. Left Jerash at 5:30 A.M., and got here at 9 A.M. The Tannur antiquities have been shipped. They left on the Excambion on Aug. 11. Dr. and Mrs. Cameron stayed here for several days, leaving Aug. 9, I believe.
August 21
War scare. Police around getting names of residents. British citizens being called up for registration for military purposes. Pere de Vaux and Pere Savignoe called yesterday afternoon. Had lunch with Erin Bishops yesterday noon.
August 25
H.E. flying back from England today. I purchased some extra supplies for the School today.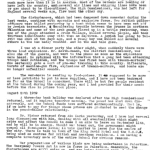 August 27 – Jerusalem
News-Letter No. 12. [printed document]
We are in the grip of another war-scare, which, I imagine, is felt much more here than it is in America. Most of the Germans are leaving or have left the country, and several air lines and shipping lines have been or are about to be discontinued. The High Commisioner, who had left for England several weeks ago, flew back the other day.
The disturbances, which had been dampened down somewhat during the last weeks, continue with sporadic and explosive force. Two British police-officers were killed yesterday by a bomb which seems to have been set off by Jewish terrorists. A smouldering trouble between the Druzes in northern Palestine and some of the Arab gangs flared up in a battle yesterday, when one of the gangs attacked a Druze village, killed several people, and took thirteen inhabitants away with them as captives. A jewish bus going to Tel-Aviv was shot at two days ago, and a young boy was killed and several others in the bs badly wounded. And so the sad tale goes.
I was at a dinner party the other night, when suddenly there were three loud explosions. Mr. Keith-Roach, the District Commissioner, was also one of the guests, and went to the phone as soon as the explosions were heard. He returned with the information that a gang had been attacking troops near Bethlehem, and that the troops had fired back with trench-mortars. One certainly gets a sort of pre-war training in this country. Rifleshots, bursts of machine-gun fire, explosions of trench-mortars, and bombs are no longer unfamiliar sounds.
The war-scare is sending up food-prices. It was supposed to be more or less patriotic to put in some supplies, and I have not been backward so far as the School is concerned. There will be but few people resident at the School during the coming year, and I had provided for their needs before the rise in prices took place.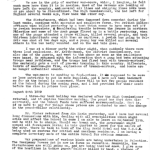 August 29 [Newsletter No. 12 (cont.)]
A three-day bank holiday was declared after the High Commissioner returned, and it expires tomorrow morning. The pound has shot down disastrously, and the School funds have suffered correspondingly. That is, if we have to pay for things whose prices are graduated to meet the change in the pound-dollar relationship.
Dr. Fisher returned from Ain Karim yesterday, and I have had several long discussions with him, dealing with all eventualities which might arise and affect the School in case I am able to leave on September 11th, and he will be in charge. Should war break out, the government might compel all foreigners living in this quarter to leave for the centre of the city. There is talk in town of the King David Hotel and the Y.M.C.A. being used as centres fo British and American residents. I am having a complete inventory made of the entire School for obvious reasons.
War preparations of various kinds are being undertaken in Palestine. The Emergency Powers Act now in force in Palestine. Meanwhile, the disturbances are still going on, and are being incited anew. I give some of the headlines in todays paper: "soldier killed by band. A platoon of the 2nd battalion of the Leicester Regiment came n contact with a band northeast of Acre. The bandits were engages by aircraft from the No. 6 Squadron of the Royal Air Force, and by the Troops, and casualties were inflicted upon them." "Village Elder killed by brigands. A gang of eight armed men entered Rubaya village during the night and killed an elder, Yusuf Bey Haj Khalil." "Early on Saturday morning an armed Arab gang opened fire on an Arab village in the Ramallah subdistrict, and attempted to enter the village itself. The villagers returned the fire with their licensed shotguns, and the raiders decamped."
We are carrying on with out normal work at the School. Almost all of the Tell el-Khaleifeh objects have now been drawn to scale, and the most important pieces photographed. Dr. Henschel is doing the drawing for me. My architect, Mr. Pinkerfeld, returned from Italy several weeks ago, and is now working up the plans of the second season's excavations at Tell el-Khaleifeh. I must confess that engaging in archaeological work these days, even if it be indoors, seems at times much like playing the fiddle while Rome burns. I am certainly relieved that I got the Khirbet et-Tannur antiquities off to America in good time. Dr. and Mrs. Glidden are supposed to be returning from Antioch and arriving here on September 7th. I do not think they will have any difficulty in getting through.
In general, the public, despite the war-scare, seems to be very quiet. Most people are convinced that Haifa will be bombed because of its importance as a port and as the oil terminus for the Mosul pipeline, and that otherwise Palestine has little to fear from Europe. There may be serious local, complications.
–
—September—
September 3 – Jerusalem
News-Letter No. 12 cont.
The German attack on Poland has had no immediate effect here, except to cause the prices of food to rise, aside, of course, from filling everyone with consternation and foreboding. Several hundred Germans have left the country, and it is taken for granted that the others will be interned. A representative of the C.I.D. was around this morning, asking if I knew of any German women living in the neighbourhood who might be married to non-Germans.
As soon as news reached Palestine that the Germans had attacked Poland, all the British officials of the Museum were taken away and assigned to war-duties. When I came to the Museum of Friday, September 1st, there was not a single British official there. Dr. Emanuel Bendor is the Acting Director, and Dr. Elizabeth Henschel-Simon is the Acting Keeper. Plans have been made, I understand, to remove the objects in the showrooms to the basement of the Museum for safekeeping, in case there is an aerial attack on Jerusalem. There seems, however, to be but little fear that Jerusalem will be attacked. It is only in Haifa that air-raid precautions are being more or less intensively undertaken. Driving along Jaffa Road the other day, I saw a crowd standing in front of a shop-window, gazing at something completely new to Jerusalem, namely a display of gas-masks.
Numerous troops have been sent from Palestine to the Suez Caal, and the Officer Commanding the Jerusalem Distric, Major General O'Connor, left for Egypt the other day. It seems that bands are making a determined effort to stir up trouble again in the north, and vigorous measures have been taken against them. Now that the government's hand is comparatively strong, Arab villages which used to co-operate with the bands, frequently out of fear and compulsion, are now offering armed resistance. Many of the villages have rifles licensed by the government. Otherwise the country is fairly quiet.
September 16
Excalibur. News-Letter No. 12 (cont.).
American flags are painted all over this boat, and they are illuminated at night time. As we came into the harbor this morning, we saw the Conte di Savoia steaming out, bound for U.S.A. I understand the Rex left last week. As long as these two steamers are on the high seas, I feel certain that Italy will not enter the war.
Sandy Campbell of the Wellesly and Princeton, and Homer Thompson and the American School of Classical Studies of Athens are on board. Campbell and I visited the Agora excavations in Athens, among other things.
September 16
Excalibur. News-Letter No. 12 (cont.)
We arrived in Naples today, and are remaining here till tomorrow night. The voyage thus far has been quite uneventful, although there are numerous signs that the trip is being made in unusual times. Just when we were passing between Capri and the mainland this morning, there went by a convoy of two Italian destroyers shepherding three large passenger ships filled with troops and guns on their way, we were told, to Lybia. We had previously passed another convoy, when we were a day and a half out from Haifa. This time two French destroyers were convoying five large passenger ships, which one of the officers on board this boat told me were filled with French troops bound towards Syria. This state of affairs reminds me of Palestine, where for months at a time, all travel was possible only in company of armed convoys. This condition still prevails on many of the roads in Palestine. Ylias and I drove to Haifa on the afternoon of Sept. 10. That night, I experienced my first black-out. At a given signal, all the lights in Haifa were turned out, and wardens dashed about in motorcycles, inducing those who were slow in conforming to turn out their lights. I was staying at a hotel on top of Mt.Carmel, and it was interesting to see the entire city below plunged into immediate darkness. A number of destroyers anchored in the Haifa harbor, and the presence of a boom there, which is closed to all shipping at six P.M., are added indications of the menace of war as it affects Haifa. As we drove out of Jerusalem, we passed a large registration place, where Jewish citizens were offering their services for war duties ranging from actual military to hospital character. Further along on the same street, the Street of the Prophets, we passed the German Consulate, which was padlocked, and guarded by one English soldier and one Jewish policeman.
There are all kinds of emergency regulations in effect now in Palestine. I was to experience some of them as I passed through customs, preparatory to boarding the Excalibur of the American Export Line, on which I had booked passage for Boston. I was asked to declare all the money I had with me. To make a long story short, I was compelled to turn back all of my American Express checks, all of my Cook's Sterling travel checks, which I had had left over from a previous trip, and was allowed to take with me the munificent sum of $22 in American currency. In vain did I explain to the customs agent, that the traveller's checks, be they in dollars or pounds, were worthless until I signed them. I could understand the sense of refusing to give me permission to take the Sterling travel checks out with me, but I could not understand how Palestine would gain by refusing to let me take out my American Express checks. It would only be an inconvenience to me, and I could always have the checks cancelled whenever I wanted to. The customs' agent was adamant, however, and I was compelled to send everything back to Jerusalem with my chauffeur, except the specified amount which I was allowed to take on board boat with me. The emergency regulations were new and complicated, and I imagine that the officials do not fully understand them yet. Incidentally, all mail is being censored in Palestine now, and it expedites matters if it is clearly noted on the envelope in what language the letter is written.
The harbor at Alexandria was quite normal in appearance. Piraeus was dead, and the harbor at Naples does not seem to be as busy as I remember it on previous occasions. There are numerous destroyers tied up here although not as many naval craft as were anchored in the harbor of Alexandria. A stroll through several streets in Naples this afternoon, reve led little that was unusual, except the almost complete disappearance of automobiles due to the shortage or conserving of gasoline supplies. Some of the shops had gas-masks for sale.
September 21 – Marseilles. [Newsletter No. 12 (cont.)]
We arrived here this morning several hours behind schedule, because we had been held up in Genua, loading an unbelievable amount of freight. Genua itself was the busiest and most cheerful of the Italian ports that we touched. There were many Americans there, who were leaving for home as rapidly as space was found for them on board ships. Quite a few got on our ship at Genua. Here at Marseilles, so many extra passengers got on board, that about 32 beds have been set up on deck. The boat is now extremely crowded, but it is a pleasant crowd, that is taking the inconveniences quite agreeably.
Arriving at Marseilles this morning, we passed an American destroyer. There are rumors on board, that this boat, and other are to be convoyed on the way home to America, but I doubt whether that is true. Some miles before arriving in the Marseilles harbor, we saw a French destroyer towing an observation balloon. The entrance to this harbor, like all the harbors from Haifa on, is guarded by a boom, which can apparently be closed very quickly.
Marseilles itself seems rather quiet. Here too there is evidently some restriction on the use of gasoline, because there are very few private cars to be seen. Taxis are running freely. There are not anywhere near as many soldiers and police about as there were in the Italian ports. All of the police and municipal and government officials here walk about with gas masks slung over their shoulders, in long, round tins, which look something like lunch-cases, or rather the sort of tins botanists use when they go cut into the field. There is a noticeable absence of young men in the streets, and obviously they have been mobilized.
We were supposed to have sailed at 5 P.M., but we are still here, and word has just gone around that we are to remain here till 6 o'clock tomorrow morning. It seems that there are some difficulties about the examination of our cargo, which the French authorities are insisting on. There is a black-out in town tonight, and so there would be little point in getting off the boat tonight. The police stationed at the end of our gang plank showed me the little torches they have to get about in town later on in the night. They told me they were on duty tonight for 12 hours. I remarked that that was rather a lot. They agree, shrugged their shoulders, and said "C'est la guerre!"
I have been reading proof on the Explorations in Eastern Palestine, volume III, and finished last night. I feel like a comma out of place, but am glad to have that chore done. I shall leave the completion of the index until after I get home.
I had a small cabin to myself as far as here. Today, however the purer asked me if I wouldn't share it with some one. Sandy Campbell and I have joined forces, which leaves and extra birth available in his cabin.